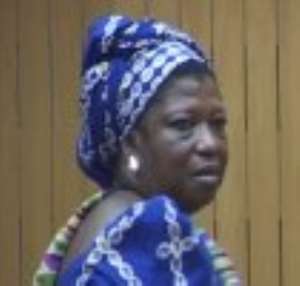 President John Agyekum Kufuor has revealed that the late Tourism Minister, Madam Hawa Yakubu, resigned from government because of difference in opinion.
Addressing family members at the Castle, Osu, in Accra, President Kufuor said Madam Yakubu also resigned as Tourism Minister in May 2002 citing her inability to combine her ministerial duties with her duties as a member of the ECOWAS Parliament.
"Because I have known her over the decades, I invited her to become a minister but typical of her she was always free with her view. She picked a quarrel with me insisting I should add culture to tourism and tried as I did, she would not be convinced that tourism need not be linked with culture. That I believe was the main reason why eventually she left the government…but she remained, I would say loyal to government and the party," he said.
Madam Yakubu died last week in London where she was receiving treatment for cancer. Until her death she was the first Vice Chairperson of the ruling New Patriotic Party (NPP).
President Kufuor paid glowing tributes to the late former minister.
He recalled how he first met and noticed her political prowess as a member of the constituent assembly in 1979. He told the delegation, how he unsuccessfully tried to woo Madam Yakubu to join the PFP in the late 1970's and the NPP in the early 1990's until he finally convinced her to join the ruling party in 2000.
President Kufuor conceded that though popular there was some tension about her.
"The leadership of our party in the Bawku area did not give any privilege to her but fortunately I managed to prevail on them to allow Hawa take the seat and they agreed eventually…and she performed very effectively as a Member of Parliament," he said.
President Kufuor said Hawa Yakubu was very independent minded and politically alert saying these qualities influenced her appointment as Tourism Minister. But Hawa resigned that position citing her inability to combine her duties as minister and a member of the ECOWAS Parliament. Though speculation was rife then that there were other considerations, in a rare insight, the President said she was so independent minded she resigned over a difference of opinion.
Nonetheless President Kufuor said they remained good friends. He described her as a hard worker and a popular figure with deep international connections. President Kufuor said her landslide victory during the 2006 congress revealed her political clout.
"She also gained a great footing within the party. The party conference came and she came to tell me she was going to contest. She came out polling the highest vote to become the first vice chairman. She showed the character of generosity and I believe that was why she got the vote she got," he stated.
President Kufuor revealed Madam Yakubu was very difficult to overlook. He described her as a shooting star and expressed regret that the country has lost such a high and free spirited individual.
Though a date for her burial has not been set, President Kufuor has instructed the director of state protocol to liaise with the family to ensure that she is given a befitting burial.