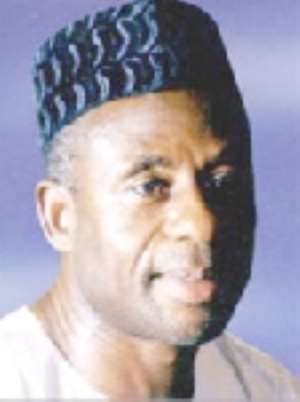 The National Democratic Congress (NDC) Member of Parliament (MP) for Asutifi South in the Brong Ahafo Region has incurred the wrath of a certain Kwasi Adu, who claims that the legislator had slapped him three times in a brawl.
The MP, when contacted, confirmed that he had indeed slapped Kwesi Adu, but explained that he did so because the man had pulled a chair from under him and spat into his face.
"So I reacted out of self-defence," he said.
Narrating the incident, Isaac Amoah who was in the company of the man the MP said he had slapped, said on 16 October last year, Alhaji Collins Dauda came to their village, Ataaniataa, which is part of his constituency.
A meeting with the residents of the village was organized by the MP to discuss a number of subjects such as a school project, water and electrification.
In the course of the meeting, held in August last year, the man alleged that Alhaji Collins Dauda asked them to fill up any hole the contractor had dug for the purpose of erecting a pole for electrification.
"I raised my hand and when I was given the permission to talk, I objected to the position of the MP and added that he should rather be counseling us to be good and not to be unruly," he said.
The MP's aides, he said, asked him to stop talking but he insisted on making his point.
"Alhaji Collins Dauda said 'you cannot display your 'patapaa' (bravado) here."
The alleged victim said he asked the MP to explain what he meant by 'patapaa' "and one of his aides called Ahmed, slapped me from behind."
He said when he reported the assault to Collins Dauda, he claimed he did not see the action but added he would have wanted him killed.
Pained about this treatment from Collins Dauda and his companions, he threatened to take back the plastic seats which he had provided for the meeting.
"As soon as I served the notice, Collins Dauda's boys pounced on me, at which stage a certain Kwasi Adu rushed to my rescue as I was assaulted by one Modestus. Adu queried them for beating me up," he said.
Collins Dauda, he alleged, turned round to slap Kwasi Adu thrice for his intervention.
"As I waited for a vehicle, I was again assaulted by Modestus. But they reached the Police Station before me, and reported me to a certain Police Inspector who locked me up.
When some friends of mine heard about my plight, they came to the station," he said.
On hearing the story, he claimed the youth demanded his release, and when he was not, it infuriated and turned them unruly.
The Presiding Member, he said, heard about the development and rushed to the place where he was briefed about what had transpired.
"The PM pleaded with me to let bygones be bygones but I had problems with my ears and so had to see a doctor," he narrated further.
"I asked the PM to collect money from the MP for me to seek medical attention but he said I should foot the bill myself.
"When I returned to the Police Station at Hwidiem, the cops told me that Collins Dauda had not come to write his statement about the issue."
When reached for his comments, the MP said that Mr. Kwasi Adu displayed rudeness by pulling a chair from under him during the meeting.
To add insult to injury, "Kwasi Adu spat into my face and that made me slap him.
"It would be a big lie if I deny slapping him but it was what he did that made me slap him," he said.
He expressed concern that some elderly people who should have reprimanded Kwasi Adu for his act of disrespect, rather condoned his action.
That, he described, as a bad precedence because no matter one's political persuasion, he or she had no right to bully or manhandle their political opponents.
Alhaji Dauda explained further that he slapped Adu under the natural instinct of self-defence, which every human being would have done under the circumstances.
He said after lodging a complaint with the police, the leadership of NDC and New Patriotic Party (NPP) in the constituency met and resolved the issue amicably.
He was therefore surprised that the matter had resurfaced.
The MP denied knowing Isaac Amoah who claimed the legislator slapped him for refusing to demonstrate against a contractor, and used the opportunity to call on the youth in his constituency not to allow over-ambitious politicians to manipulate them for selfish gains.