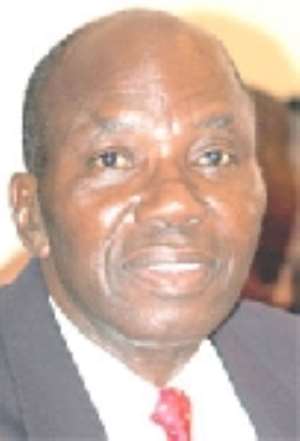 The Ashanti Regional minister and Member of Parliament (MP) for Kwabre West, Hon. E.A Owusu Ansah has broken his silence on the controversies that have engulfed his constituency lately.
Denying that he had a hand in it, he at last commented on the fateful meeting at Kodie recently.
According to the MP, he was in Accra when information reached him that a group of hoodlums had gone to disrupt the party meeting.
According to him, there was no row between him and the embattled constituency chairman, Odeneho Kwaku Appiah, as his detractors wanted the world to believe.
"There is no row between the two of us. I don't know but if he has anything against me, I cannot tell," he stated.
The regional minister in an interview said troubles began to infest the area when 42 of the 65 polling station chairmen found fault with Odeneho Kwaku Appiah and five others a few months after they had voted them into various positions in the constituency.
He said the 42, who constituted over two-thirds of the constituency executives, claimed they had realised that Odeneho's administrative style was not the best for the growth of the party in the area, hence petitioned the Ashanti Regional executives of the party, expressing their opinion on the chairman and the other five.
According to him, when the regional executives, in accordance with the party constitution, extended invitation to Odeneho Kwaku Appiah and the rest for questioning, they refused to honour it but gave no reasons.
Hon Owusu Ansah said the regional executives' decision was to investigate the case and resolve the matter amicably but the polling station chairmen went ahead to pass a resolution of no confidence in Odeneho and the five others.
He explained that under the party constitution, with the exit of the substantive constituency chairman, the first vice-chairman, Nana Appiah Kubi was the automatic choice to assume the chairmanship while the second vice-chairman moved into his stead.
Asking anyone who felt unjustifiably treated to go to court, the MP said he would not submit to anyone who would not go by the New Patriotic Party (NPP) constitution, giving assurance that he would always support the executives to bring development to the area.
Asked about the effort he had been making to resolve the impasse in his constituency, the MP said he always submitted to party rules, regulations and constitution when it came to administration.
It would be recalled that a meeting convened by the Kwabre West constituency to outdoor an interim executive committee allegedly instituted by the Regional Executives of the party at Kodie in the area, ran into controversy.
That was when a group of hoodlums allegedly organised by Odeneho Kwaku Appiah, stormed the area and disrupted the proceedings, resulting in the abrupt closure of the meeting.