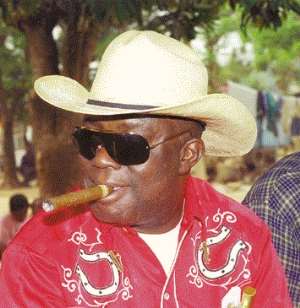 The leader of the United Renaissance Party, Charles Kofi Wayo has taken a swipe at the NPP government over the increasingly worsening power crisis in the country.
The 'Nima boy' believes government is paying lip service to solving the power crisis contrary to the assertion of the Finance and Economic Planning Minister, Kwadwo Baah- Wiredu that government had injected an amount of US$170 million in resolving the crisis as part of the immediate steps.
The brazen politician said it was not true that much effort was being put into relieving Ghanaians of the albatross of darkness-stricken environment as promised.
He stated this in reaction to comments made by the Finance and Economic Planning Minister during an interview granted to a Kumasi based radio station.
The URP leader, who claims to have a solution to the perennial power crisis of the country but has been denied the opportunity to confront it expressed displeasure about the prevailing situation, tagging it as insensitivity on the part of government.
Kofi Wayo questioned the sincerity of government and challenged the authorities concerned for a debate on the energy sector to establish his assertion that those people currently handling the energy crisis are brainless in their own field.
"They are only joking with the businesses and industries that provide jobs for the ordinary people. I tell you, government is doing nothing".
According to him, he foresaw this problem long before, yet Ken Dapaah, the then sector minister would not allow him to do something about it.
Source: The Chronicle