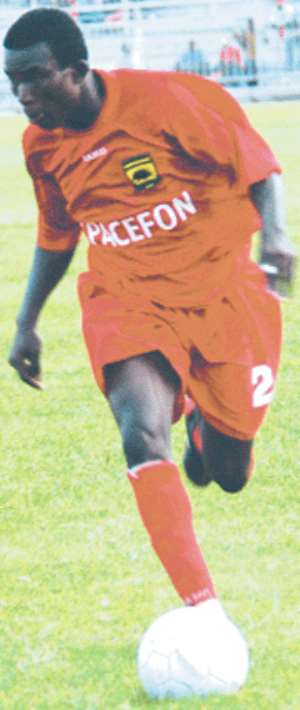 Kumasi Asante Kotoko had to struggle from a goal down to secure a hard-fought 2-1 victory over stubborn Feyenoord Academy in their 26th week Onetouch Premier League match at their newly-adopted Sunyani Coronation Park yesterday.
Kotoko heaved a deep sigh of relief when they cancelled a 53rd minute goal by Abdul Haruna whose long range shot cheekily beat goalkeeper Isaac Amoako.
Kotoko's left winger, Douglas Nkrumah, who fetched his side's equaliser in the 60th minute, again made it two in the 82nd minute to win the day for the Porcupine Warriors.
Meanwhile, the continuous disrespect toward journalists assigned to cover matches at the various centres by some unscrupulous supporters of football clubs manifested at one of the gates of the Coronation Park yesterday.
Three journalists, Ian Mortey of the Ghanaian Times, Dennis Peprah of the Ghana New Agency (GNA) and this reporter were heckled by some Kotoko gate guards for venturing to use an entry meant for mediamen and other accredited personnel during sporting activities.
Despite holding their press identification cards, one of the gate men, whose name could not be established, insisted that the journalists use another gate.
When this reporter attempted to enter, he was forcibly pulled out, compelling him and his colleagues to grudgingly comply with the directive.
However, another group guarding that gate subjected them to scrutiny, thus reducing us to mere gate-crashers. A verbal challenge by Mortey attracted the fury of the guards who threatened to refuse him entry.
After a brief struggle, Mortey had to enter the park with a dirty white shirt.
At a point during the match, the police had to arrest a Kotoko fan for an ungentlemanly behaviour and drove him away in a waiting police van to their station.
Story by Akwasi Ampratwum-Mensah