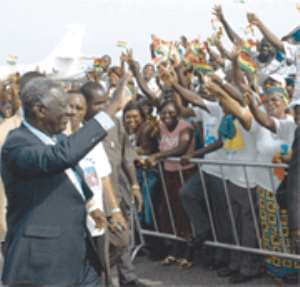 President J. A. Kufuor returned home yesterday after three State Visits to the United Kingdom (UK), Portugal and Algeria.
He was met on arrival at the Kotoka International Airport by the Vice-President, Alhaji Aliu Mahama, Ministers of State, Service Commanders and a cross-section of the general public, many of whom cheered him by waving miniature Ghana flags.
The Ga Blafo Wulomo, Numo Blafo Akotia Omaetu III, who represented the Nai Wulomo, Numo Tete III, performed libation to thank God for the safe arrival of the President.
President Kufuor's State Visit to the UK, at the invitation of Queen Elizabeth II, was historic in the sense that it was the first time such an honour had been accorded a Ghanaian President.
During the visit, President Kufuor held a meeting with the Queen, who also hosted a banquet in his honour at the Buckingham Palace.
The President also held a meeting with the British Prime Minister, Mr Tony Blair, leaders of political parties in Britain and the West African business community.
The Liverpool John Moores University conferred an Honorary Fellowship on President Kufuor in recognition of his exemplary leadership.
The visit was capped with the signing of a 10-year development co-operation agreement between Ghana and the UK.
From the UK, President Kufuor visited Portugal to lobby the Portuguese leadership in favour of Ghana and Africa since it would assume the Presidency of the European Union (EU) in July this year.
He also discussed with the Portuguese leadership issues related to the next Euro-Africa Summit, which would be held during Portugal's Presidency of the EU.
The last leg of the President's visits took him to Algeria, where he attended the NEPAD Summit in his capacity as Chairman of the African Union (AU).
Briefing journalists at the Kotoka International Airport on arrival, the Minister of Foreign Affairs, Regional Co-operation and NEPAD, Nana Addo Dankwa Akufo-Addo, described the three visits as very eventful.
He said the joy and enthusiasm with which Ghanaians celebrated the country's Golden Jubilee at home were replicated by their compatriots abroad.
Story by Kofi Yeboah