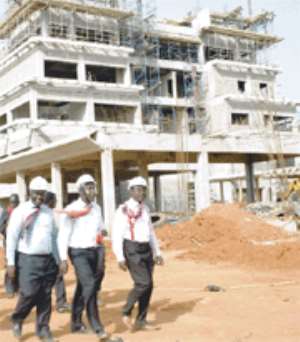 New additions to the Presidential Palace and Seat of Government Project at the Flagstaff House in Accra have pushed the anticipated cost of the project from $30 million to $41 million.
The government is, therefore, exploring various avenues to secure the additional $11 million to complete the project.
Mr Kwadwo Baah-Wiredu, Minister of Finance and Economic Planning, made this known when some Members of Parliament (MPs) visited the project site to assess progress of work and appreciate the need for additional funding when such request is brought the House.
The additional works include rehabilitation of the original Flagstaff House in which Ghana's first President, Dr Kwame Nkrumah, lived for preservation, the relocation of soldiers residing at the place, the construction of asphalt access roads and fence wall.
According to the technicians working on the project, those requirements were not part of the original project, hence the need for additional funds to undertake them.
The Presidential Palace and Seat of Government is being funded from a $30 million concessionary loan from the Indian Government. The project is being constructed by Sharpoorji Pallonji and Company Limited (SPCL) of India.
The project comprises a presidential villa, offices for the president and the vice-president, a ceremonial square and banquet hall, all of which are expected to accommodate about 2,000 people.
The SPCL brings on board impressive credentials spanning 140 years in the construction industry. Its portfolio include the construction of the Malabar Hill Water Reservoir in Mumbai, atomic energy plants, stadia, airports, hospitals and hotels throughout the world.
Ghana's project is scheduled to be completed on December 8, 2007, and according to the Assistant General Manager of SPCL, Mr S. K. Singh, who took the MPs round, that deadline would surely be met.
He estimated the project to be 55 per cent complete, adding that with about 800 workforce working around the clock from 6 a.m. to 10 p.m. each day, it would be completed on schedule.
At the end of the visit, the MPs were unanimous that the project was a worthy national asset, hence the need to get the additional funds to complete it.
The MP for Adenta, Mr Kojo Opare Hammond, underlined the need for both sides of the House to support the project because it was a national asset.
The MP for Kwabre East, Mr Kofi Frimpong, said the facility would not be for any particular political party or President and so there was the need to give it national support.
The MP for Atwima Mponua, Mr Isaac Asiamah, described the facility as very great, saying that it was a demonstration of the bold initiative taken to put it up.
Story by Kofi Yeboah