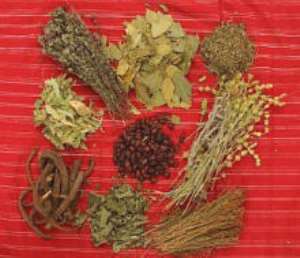 The Chairman of Alhamdulilahi Traditional Healers Association, Alhaji Osumanu Yaro, has proposed to Government, health authorities and other stakeholders in the health sector to assist herbalists document herbs and their uses.
He said when this is done it would help improve the role of herbal medicine in health care delivery.
He said because of illiteracy many useful and effective herbs were forgotten because those practicing traditional healers were unable to record their uses and potency.
Alhaji Yaro made the proposal when launching a ¢500 million two-year development plan for the Association which coincided with the election of officers at Adieso in the West Akim District of the Eastern region.
He said the project includes the construction of a clinic that would be used in training the youth in the area who wants to go into the practice of herbal medicine, whilst part of the building would be used for an orphanage and a kindergarten.
He said the project would be undertaken through communal labour and dues collected from members of the Association.
Mallam Tommy Yakubu, Vice Chairman for the Association, who had offered land for the project said this is the time that traditional medicine must be developed to reduce dependence on foreign drugs for the care of diseases.
He called on all practitioners to come under one umbrella so that they could all contribute to health care delivery because "before the advent of the Europeans, our forefathers were depending on herbs which enable them to live for many years."
The seven elected executive members are: Alhaji Osmanu Yaro, Chairman, Mallam Tommy Yakubu, vice chairman, Mallam Mamata Yakubu, Secretary, Mallam Ibrahim, Treasure, Mallam Makiashalbu, Financial Secretary, Mallam Karimu Seidu and Salley Yahaya, Organiser.