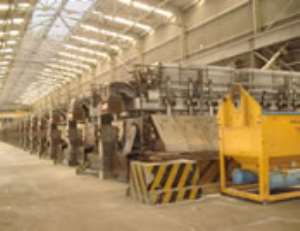 The load shedding exercise which was suspended because of the Golden Jubilee celebrations has resumed since last week.
The water level in the Volta Lake continues to shrink, and businesses are feeling the pinch of the energy crisis.
To protect the Akosombo Dam against a total shutdown, the Volta River Authority is turning increasingly to thermal energy sources to deal with the situation.
That means burning diesel, coal, natural gas and other fossil fuel.
But some critics are calling the plan short-sighted and are asking government to invest in renewable energy instead.
The worsening energy crisis is forcing home owners and businesses to find their own power. Some businesses are buying generators, others building their own plants.
VALCO, the country's largest aluminum smelter, which is now shut due to the power shortage, has plans to build its own generating station.
According to Dr. Charles Mensah, Chief Executive of VALCO, the company hopes the plant will be up and running within two years. When it is, the plant will be powered by coal.
VALCO's move mirrors the wider strategy by government, which is moving Ghana towards greater reliance on fossil fuels.