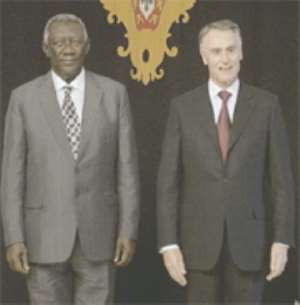 President J. A Kufuor arrived in Portugal by a special flight from London to begin another State Visit to Portugal at the invitation of the Portugese President, Anibal Cavaco Silva. 
This visit is to set the tone for the forthcoming Africa Union-European Union Summit later in the year when Portugal assumes the Presidency of the European Union.
On arrival President Kufuor was driven to the Palacio de Belem, the presidency, where he was formally welcomed by President Silva with full military honours.
The two Presidents later held bilateral talks behind closed doors.
From the Presidential Palace, President Kufuor, accompanied by his delegation which include the Foreign and NEPAD Minister Nana Akufo Addo, visited the Palacio de Bento(Parliament House) where he was met by the Speaker of the House.
President Kufuor held a meeting with representatives of political parties and toured the Parliament House.