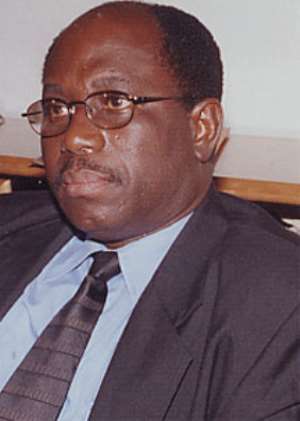 THE National Democratic Congress (NDC) Member of Parliament (MP) for Ho West in the Volta Region, Mr. Francis Agbotse, has stated clearly that should the President consider reappointing the former Minister of Roads and Transport, Dr. Richard Anane, he would be the first person to support it.
He described the former Minister as a very affable, sociable and hard working person who was so much committed to his job that he never discriminated in terms of where road networks needed to be improved.
Mr. Agbotse expressed his support to the Minister in an exclusive interview with The Chronicle after a public forum organized by the Centre for Democracy and Development CDD at Koforidua.
The MP lamented that on the day the former Minister was reported to have resigned from his post, he had a sleepless night because of the way the Minister was working hard to ensure that road networks in his area were improved.
He said "On the day that the Minister would be recalled back to head his position, I will put on a white cloth because we will work together to see to it that the roads in my constituency and other areas in the Region get improved''.
According to him, the government is not doing much in his area as far as the road network was concerned. He bemoaned the fact that road construction machines were removed from the area and contracts suspended without any reason when this government came to power.
He said through Dr. Anane, some contracts have been re- awarded and machines returned to site for road works, citing the Ho -Fume road, on which contractors are still working.
"With time I know, through good lobbying and hard work, other roads in the area would be tackled", he observed.
In this aspect, he does not think Dr. Anane's social life should be made to over-rule his hard work and capabilities as a Minister and now that the court had cleared him, he should be made to continue his good works.
Dr. Anane was found guilty of perjury, abuse of office and conflict of interest last year by CHRAJ after investigating newspaper reports about the Minister's remittances to his mistress in the United States.
But a Fast Track court, presided over by Justice Baffoe- Bonnie, quashed the work of CHRAJ on March14, saying it should expunge the records of proceedings of the investigations carried out since there was no complainant in the case it investigated.