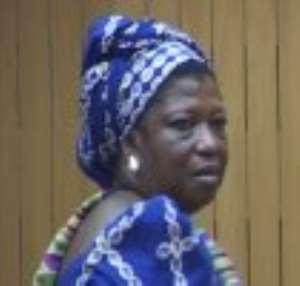 Ghanaians of all walks of life are paying tribute to one of the nation's finest women leaders, Madam Hawa Yakubu, who died in London on Tuesday after a short illness.
From all available media networks; radio, Tv, newspapers and on the web; glowing tributes have been pouring in from politicians, rights campaigners and ordinary folks for the late politician/career woman who once stood out as the lone voice of dissent in Parliament in 1993 when she was an independent candidate and at a time then main opposition NPP, had boycotted elections.
Chief of Staff Kwadwo Mpiani, MPs John Mahama, Theresa Tagoe, Mahama Ayariga who unseated Hawa as MP for Bawku Central in 2004, and several others saw in Hawa a virtuous woman whose death would remain Ghana's loss forever.
Several callers to Joy FM, which devoted a substantial space on its Super Mourning Show to the memory of the late 'Iron Lady', praised her selfless devotion to the advancement of humanity and her uncommon reconciliatory spirit.
She was also fondly remembered for her outspokenness.
Until her death, Hawa Yakubu was the First Vice Chairman of the ruling New Patriotic Party, a position she held since 2005.