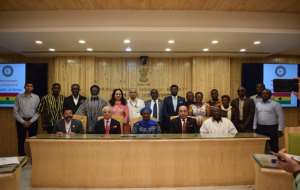 The Government of Ghana has teamed up with the Government of India to strengthen early warning systems, exchange knowledge and transfer technology.
The Deputy Minister for Communication and Digitalisation, Ms Ama Pomaa Boateng, led a 17-member delegation to India for an eight-day meeting from November 15th to 24th, 2023.
The meeting, hosted by India's National Disaster Management Authority (NDMA) under the Ministry of Home Affairs, aims to strengthen Ghana's National Disaster Management Organisation (NADMO).
Ms Pomaa Boateng said the partnership aligns with the objectives of Sustainable Development Goals (SDG-17) and would specifically focus on strengthening IT infrastructure and operational capabilities within NADMO's decentralised Emergency Operation Centers (EOCs).
Recognising the shared challenge of climate-induced disasters, akin to India's annual experiences, the Deputy Minister stressed the need for enhanced capacity and technological advancements to forecast solutions and early warning systems for effective emergency management.
The programme's key areas encompass the assessment of IT emergency preparedness and response across NADMO's Emergency Operation Centers nationwide and capacity strengthening workshops on Emergency Telecommunications Preparedness and Response.
It will also include a comprehensive week-long South-South knowledge-sharing endeavour, including technology transfer sessions and a learning tour in India.