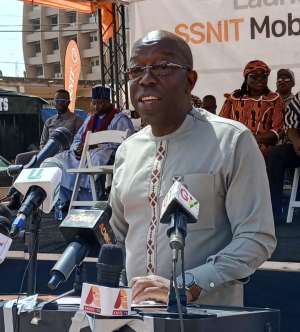 This year's Mobile Service Week of the Social Security and National Insurance Trust (SSNIT) has been officially launched in Sunyani with a call on traders, artisans and all workers in the informal sector to sign up for SSNIT for a better life during pension.
The Director-General of SSNIT, Dr. John Ofori-Tenkorang, who made the call, was worried that less than one percent of self-employed individuals aged between 15 and 45 are on SSNIT.
"There are 6.7 million people who are self-employed in Ghana. Out of this figure, 3.1 million are aged between 15 and 45. However, only 57,000 out of the 3.1 million are on SSNIT, representing less than one per cent of the number", he said.
According to him, SSNIT has traditionally focused its message and services on people in the formal sector "but now because of technology, digitalization, and the Ghana Card, every worker in Ghana is SSNIT-ready so now we're able to extend our services to cover the previously uncovered and make it easy for them to join us to secure their future."
SSNIT Mobile Service Week
The SSNIT Mobile Service Week is a period set aside where staff of the Trust spread themselves outside the confines of their offices to reach out to people in their various workplaces.
The idea is to create awareness on the need for all workers, especially those in the informal sector, to join SSNIT in their own interest.
This year's edition, which is on the theme "Choose your tomorrow: Sign up for SEED from SSNIT today", will see SSNIT pitching 75 out-of-office camps or tents at vantage points across the country to further reach out to as many workers as possible.
The Director-General of SSNIT, Dr. John Ofori-Tenkorang, encouraged workers to feel free to walk into any SSNIT office to seek clarification about all pension-related matters and assured the public of swift responses from the staff.
He mentioned monthly pension payments, life insurance, invalidity pension and health insurance as some of the key benefits one stands to gain upon retirement as SSNIT contributor.
The Minister of Employment and Labour Relations, Ignatius Baffour-Awuah, asked people to take issues relating to their pensions very seriously before they retire from active service.
Pensions management
"There is no one single business entity in Ghana that is bigger than the pensions scheme. The assets under management of pensions today stands close to 50 billion Ghana cedis. There's no bank in Ghana that has that so when we talk about pension, it's a very big industry," he added.
The Bono Regional Minister, Justina Owusu Banahene, commended SSNIT for being innovative by making conscious efforts to reach out to market women, artisans and a host of other informal sector players in a bid to hook them onto the Trust.
The Regional Minister called on SSNIT to engage the media and make them ambassadors of the SSNIT to step up advocacy on the importance of pension and its related matters.
She encouraged the staff to use the local dialect during the mobile service week to make a meaningful impact on most of the populace.