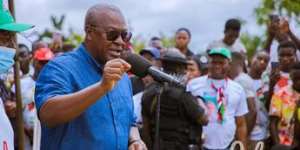 Flagbearer of the National Democratic Congress (NDC), John Dramani Mahama has opened up on the kind of people he will be working with when he is elected President again in the 2024 general elections.
Speaking during his Building Ghana Tour in the Bono Region, the former President said he would only give truthful people the chance to serve the people.
He warned that people who are arrogant should not dream of working with him in the next NDC government.
"Anybody who came to serve in our government must not be arrogant, because you must be accountable to the people who elected you. We don't want to see arrogance in our next NDC Government, the people are suffering so you must be modest.
"You must be truthful, and so when you are appointed as a minister, you've been given a public trust and so the people can ask you to account for what you've done, and if you haven't held that public trust well, you can be sanctioned," John Dramani Mahama said.
According to the former President, his government will restore the hope of Ghanaians and ensure everyone believes in the country and its democracy.
"…unfortunately, many young people look at their lives today and say I don't believe in this democracy, I have no opportunities to improve myself and so I don't even see the reason why, many young people don't see the need in voting, but I beg you, Ghana has a bright future, don't lose your hope in your country, we can turn things around, we will put Ghana on his fit and the only way we can do that is your vote," John Dramani Mahama said as he appealed to Ghanaians to vote for him and the NDC next year.