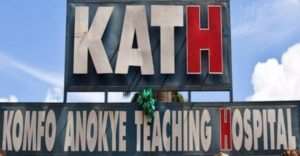 The Chief Executive Officer for the Komfo Anokye Teaching Hospital in the Ashanti Region, Professor Addai Mensah has revealed that, the referral facility has no functioning mammogram machine for the past 18 years.
"Breast cancer, as common as it is so far as the cancers are concerned, over the past 15 to 18 years, a mammogram machine which is essential for screening has been non- existing at Komfo Anokye Teaching Hospital.
"A mammogram is an X-ray for examining the breast. Doctors use a mammogram to look for early signs of breast cancer. Regular mammograms can find breast cancer early, sometimes up to three years before it can be felt, and it's absence is affecting breast care in the region," he said.
Professor Addai Addai Mensah revealed this when the leadership of Olam Food Ingredients Ghana Limited paid a courtesy call on him on Friday November 19, 2023.
He added that instead of detecting breast cancers at stage one and stage two, the facility detects them at stage four, due to the absence of the machine.
He has therefore called on corporate organizations and benevolent individuals to support efforts being made by the hospital's management to fix the problem.