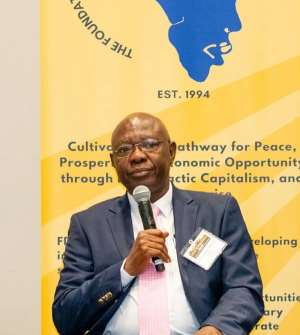 Mr Akwasi Oppong-Fosu, a former Minister of State has said the 24-Hour Economy Vision policy that will be introduced by the former President John Dramani Mahama will reshape Ghana's economy.
He said policy will be a resurrection from the economic crisis the country was facing with corresponding increase in unemployment, extreme poverty and widening inequality and a record low living standards.
"This initiative is one of the silver bullets in the former President's arsenal which he intends to implement to turn the fortunes of the country around".
Speaking to the Ghana News Agency in Accra, Mr Oppong-Fosu said the vision of the former President Mahama for the "GHANA WE WANT" seeks to launch the country into a golden age of inclusiveness, stability and prosperity.
He said social and political tensions and unrest were troubling considering the spate of disruption of democratic governance in the sub-region.
Mr Oppong-Fosu said whereas various views were expressed about the 24-hour economy, the thrust of the policy was an economy that would operate 24-hours a day, and 365 days in a year.
He said the inter-related key pillars that would support the 24-hour.economy vision were: "Social Sustainability, that will be ensuring the well-being and dignity of citizens by promoting inclusiveness, equity, human rights through access to education, health care and decent work), Economic Sustainability, that will focuses on a long-term economic growth while maintaining a balance between efficient management of resources, social equity and financial stability).
"Also were: Environmental Sustainability, that will be preserving and protecting the natural environment through appropriate policies and practices, and Human Capital Sustainability, that will investment in the continuous development and empowerment of citizens. All these pillars will be built on a foundation of good governance".
The former Minister of State said, former President Mahama has consistently been emphasising and re-echoeing in his cardinal belief that the business-as-usual approach which had so far only led to a very low productivity, cannot achieve the deliverables which are necessary if we should attain the GHANA WE WANT.
He said: "the effect of the 24-hour economy policy will be felt in all sectors of Ghana's economy. Fortunately, the levers of the state sector of the economy which forms the basis upon which the private sector thrives are in the domain over which the President does have direct control."
"For instance, institutions within the state sector, such as Ghana Revenue Authority GRA (for clearing of goods, etc), Police (for safety and security), Companies Registry (for registration of companies, etc). "All regulatory agencies, including the Bank of Ghana are all institutions which can be quickly given appropriate re- orientation to operate and support the 24-hour economy. Once the state sectors creates the platform and environment for the 24-hour economy, the private sector will take advantage of it".
Mr Oppong-Fosu said the 24-hour economy policy would place some quite emphasis on the agriculture sector as one priority area of high impact envisions with a productive capacity along the entire value chain aimed at creating wealth and jobs through partnerships with the private sector.
This he said will entail the establishment of Agro-Economic Zones that will integrates technology and innovation into agriculture and agribusiness to boost productivity along the value chain to include: inputs, machinery and equipment to enhance agricultural practices; efficient harvesting techniques; modern storage facilities; improved transportation services; innovative agro-processing techniques with modern waste management facilities; hi-tech packaging facilities and innovative marketing strategies.
"The Implementation of the 24-hour economy policy will drastically reduce food imports which is a major drain on our finances. Moreover, it will put Ghana in a position to benefit from Africa's food market which is estimated to reach $1 trillion by 2030, (In 2020, Ghana imported food (including fish) worth 2,7 billion US dollars)," he added.
The former Minister of State said the 24-hour economy policy will entail the Establishment of a Presidential Delivery Secretariat with offices in Ministries, Departments and Agencies (PPME), Regional Coordinating Councils and Metropolitan, Municipal and District Assemblies (MMDAs) (Planning Departments) respectively.
He said the National Democratic Congress (NDC) developed a Local Economic Development Policy in 2014 which sought to stimulate the local economy through MMDAs partnership with Small and Medium Enterprises (SMEs), traditional leaders and local communities organised into cooperatives".
"It will also identify and resource designated institutions to undertake human resource capacity development with (emphasis on skills development) and upscaling of SMEs to make them innovative and globally competitive, Provide social and economic infrastructure including digital transformation to promote economic activities and increase productivity and Ghana's Diplomatic Missions abroad will also be reoriented to play a crucial role in promoting exports of made-in-Ghana products".
"Undoubtedly, this initiative will offer immense possibilities for all Ghanaians to enjoy sustainable social and economic opportunities".
GNA