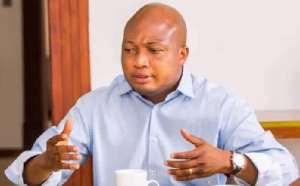 MP for North Tongu, Samuel Okudzeto Ablakwa
Member of Parliament for North Tongu, Samuel Okudzeto Ablakwa has taken a jab at a parliamentary candidate aspirant of the governing New Patriotic Party in the constituency, Dr. John Saviour Elebu for focusing on winning political power at a time the constituents are grieving over the Akosombo Dam spillage flooding.
Over 12,000 residents have been displaced from their damaged homes by the floods, with thousands of children and elders now sheltering in temporary classrooms and tents.
Dr. Elebu in an interview with the media vowed to unseat the NDC MP in the coming 2024 general elections.
Reacting to this, Mr Ablakwa who stood beside his constituents since the spillage of the Akosombo and Kpong dams noted that the timing of the campaign in the constituency is wrong considering the condition of the citizens in the area.
"Honestly, I don't think we should be campaigning in North Tongu at this time when we are faced with the worst catastrophe in a lifetime," Ablakwa stated.
Ablakwa notes that "this is the time to put partisanship aside and come together as community leaders to find solutions and relief."
He insists he will not engage in partisan politics at such a crucial time, indicating that "It is insensitive, callous, offensive and an unforgivable betrayal.
Instead, the MP is calling on all political leaders in the area to "campaign to save our dear constituents" by focusing on relief efforts for the thousands who remain in desperate need of survival.