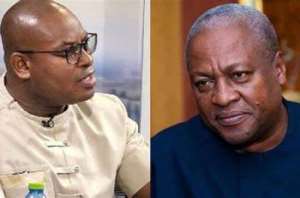 Richard Ahiagbah, NPP National Communications Director[left] and former President John Dramani Mahama
The National Communications Director of the governing New Patriotic Party (NPP), Richard Ahiagbah, has said former president John Dramani Mahama must provide details on how he intends to implement a 24-hour economy if elected in 2024.
In a post on social media on Friday, November 17, Mr Ahiagbah argued that simply touting a 24-hour economy is not enough without an outline of the necessary enabling policies and factors.
"Until we see JM's enabling policy plan, his 24-hour economy idea remains a populist stunt akin to a student who vows to score straight A's but is known to be such a student or does not have a study plan that demonstrates how he/she would arrive at the desired result of straight A's. It is just talk at this point," Ahiagbah wrote.
He questioned why Mahama did not implement a 24-hour economy during his 2012-2016 tenure.
"A 24-hour economy cannot happen in a vacuum. First, JM must start by discussing his enabling factors plan that will give impetus to the 24-hour economy," Ahiagbah stated.
The NPP communications director urged Ghanaians to keep faith in the incumbent party, arguing it has "the answers" and will deliver economic recovery."