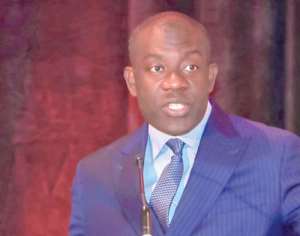 Ghana has been selected to host the Africa Regional Office of the International Fund for Public Interest Media (IFPIM).
The announcement was made jointly by Ghana's Minister for Information, Mr Kojo Oppong Nkrumah, and the French Minister of State for Development and International Partnerships, Mr Chrysoula Zacharopoulou, at the Paris Peace Forum held in France.
"Hosting the Africa Regional Headquarters in Ghana would support the digital expansion of the Ghanaian media, aligning it with the digital evolution of the industry," Mr Oppong Nkrumah noted.
Mr. Oppong Nkrumah highlighted the substantial benefits that Ghanaian media professionals would reap from IFPIM's presence, adding that, it would offer capacity building avenues and technical support to enhance the skills and knowledge of local media practitioners.
He stated, "The move marks a significant milestone in Ghana's commitment to support press freedom and independence of the media."
The initiative, the Minister, said aligns with the government's broader efforts to support the Ghanaian media and improve information integrity, a vital component for the proper functioning of democracy.
The Minister emphasised that the government would provide the necessary infrastructure and diplomatic courtesies to ensure the smooth operation of IFPIM in Ghana.
He called on other states within the sub-region to enter similar partnerships with IFPIM to execute programmes that support public interest media for democracies to thrive.
The IFPIM, a global coalition supported by governments, philanthropic organisations and private companies, aims to address structural challenges facing independent journalism in low and middle-income countries.
Its presence in Ghana is expected to provide a much-needed boost to the country's media landscape.