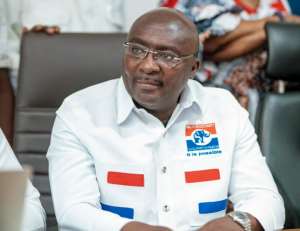 John Hayward was right about NPP's recklessness and insensitivity.
In July, 2018, about 6,000 members of the governing New Patriotic Party (NPP) converged on the campus of the Koforidua Technical University in the Eastern Region to elect their national executives at the party's National Delegates Conference.
John Hayward, was a representative of the Conservative Party who was invited by the NPP to deliver a solidarity message. In his speech, he questioned the rationale behind the flamboyant organisation of the NPP's National Delegate Conference.
He expressed shock over the many posters he had seen as well as other means of campaigning.
He questioned whether that is a prudent use of resources instead of focusing on the needs of the people.
"I came through the streets today and I saw so many posters of the wonderful candidates here. But I had to reflect. I think I saw more posters than the delegates at this conference and I wondered, 'is this really the best use of our resources?'" he said.
He suggested that the NPP is trending on slippery grounds with respect to the use of resources and advised that it rather invests in the lives of the citizenry.
About five years later, on November 4, 2023, during the NPP's presidential primary election, some delegates openly alleged on national television that Dr. Bawumia and Hon. Ken Agyapong, leading contenders of the election offered Ghc400 and Ghc300 respectively to delegates for votes. If we do the mathematics by multiplying Gh700 by the 200,000 registered delegates for the election, we will get a whopping Ghc140 million. And this was spent on just the day of election not to mention other expenses made during their campaign tours.
Unfortunately, the outpatient department of the renal unit of the Korlebu Teaching Hospital in Accra was closed down in May, 2023 due to a debt of Ghc4 million, leading to the death of 19 patients.
This is a very sad development which seems to support John Hayward's assertion that the NPP is more interested in elections than the welfare of the citizens of Ghana.
The question I know many people would be asking is whether they deserve to be given the mandate to rule again in 2024.
My answer is in the lyrics of the song of Tasha Cobbs which says that there is the need to break every chain!
Anthony Obeng Afrane