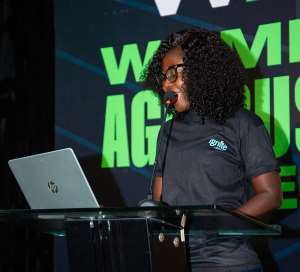 Initiator and Lead of Guzakuza, Nana Adjoa A. Sifa has called on government and the private sector to support women in agribusiness.
Speaking at the 2023 Women in Agribusiness Week (WAW) in Accra, she argued that women in agribusiness have the potential to lead economic growth and transformation on the continent.
"Women in agribusiness have the inherent potential to lead economic growth, charting the course for the continent's future and leaving an indelible mark on its overall development.
"Join us to empower women, and nurture the growth of agribusiness that will leave an enduring impact in the lives of Africans," Nana Adjoa A. Sifa said at the WAW Conference.
The Guzakuza Lead continued, "Women are not just contributors but we are actually architects in African agribusiness because we have the power to shape the future of Africa."
This year's Women in Agribusiness Week is being held on the theme, "Sustaining African Agribusiness: Leveraging on Digitalisation, AFCFTA, and Climate Resilience for Food Security".
In her address, Nana Adjoa A. Sifa said Africa's agribusiness sector holds immense potential. She noted that It's not merely a source of economic growth but a powerful force for social change, women's empowerment, and food security.
She explained that the Conference is not only to support women in agribusiness but to celebrate the amazing women who have made significant contributions to the growth and resilience of the agribusiness industry.
In a speech read on behalf of the Chief Executive Officer of the Ghana Enterprises Agency, Mrs. Kosi Yankey-Ayeh, she said Women entrepreneurs play an important part in Ghana's micro, small, and medium enterprises (MSMEs) sector, which is the country's economic backbone.
She indicated that women in agriculture in Ghana contribute significantly to food production, processing and marketing, household food security and nutrition, natural resources management, and conservation of biodiversity in the face of climate change.
Acknowledging that women-led entrepreneurs including those in agribusiness lag behind their male counterparts due to limited access to finance and non-financial resources, she said it is important that they are supported.
In her speech, Mrs. Kosi Yankey-Ayeh assured Women in Agribusiness that the Ghana Enterprises Agency is committed to ensuring that many more MSMEs in Ghana have access to resources that will stimulate their growth and enable them to produce world-class products and services to compete both locally and internationally.
"We encourage all our women entrepreneurs especially those in Agribusiness to visit any of our 210 Business Advisory Centers (BACs) and 37 Business Resource Centers (BRCs) at the district level and across all 16 regions in Ghana to access our services," she said.
In an address at the Conference, the Prince of Buganda Kingdom, Kampala, Hrh Prince Edward Frederick Walugembe appealed to the government of Ghana to support Guzakuza in the important work the organisation is doing.
He argued that agriculture is the backbone of Africa and that any effort to promote agribusiness should be backed by those in leadership.
"Coffee is a product we can revive and develop in Ghana to add it to the Ghanaian mass export. We are ready to partner with you to ignite passion in the production of coffee.
"The future of Africa is up to Africans. We should not look at outsiders for salvation. Let us petition our leaders to invest in agriculture and empower the youth. Women should also be put at the forefront of all development," Hrh Prince Edward Frederick Walugembe said.
More about Women in Agribusiness Week:
Women in Agribusiness Week is a week-long series of impactful activities to strengthen collaborations among Women in Agribusiness and stakeholders and to salute their achievements.
The Week which comes with a conference and an awards ceremony is organised by Guzakuza, a trusted and respected brand across the continent representing women in agribusiness and what they stand for.
Guzakuza has been a driving force in shaping the narrative of women in agribusiness across the continent for over seven impactful years. Serving as a catalyst for positive change, we have been at the forefront of creating opportunities, fostering meaningful connections, and catalysing the personal and business growth of extraordinary women in agribusiness.
At the core of Guzakuza's existence is a mission to inspire, connect, and equip women with the necessary tools to build resilient and meaningful agribusiness ventures in Africa.
Guzakuza remains resolute in its commitment to a vision where African women stand tall at the forefront of agribusiness and economic transformation.
Guzakuza is inspiring women to overcome challenges, break barriers, and cultivate dreams that resonate far beyond the fields.