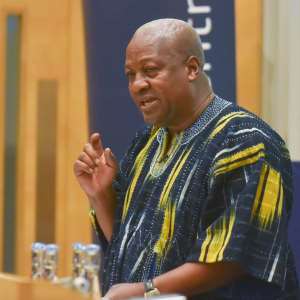 Folks, I trust you are all doing good. I have resolved not to worry about the baseless criticisms and attacks some people continue to make against H.E. John Dramani Mahama anymore, do you know why? My reason is that no leader in this country has been spared of such acts of unfairness; not even the great Osagyefo Dr. Kwame Nkrumah!
This is unconscionable, and that is how shamefully notorious human nature can be. Anyway, should this be a surprise? Luke 6:26 of the Holy Bible has this to say: "Woe to you when everyone speaks well of you. . ." Thank God posterity has been the judge as to what any of these state-men achieved for their country. And I believe the same posterity is judging JDM.
This makes me wonder who an excellent leader is, and a research I made has shown that an excellent leader could be judged by 4 traits: a person of integrity, a servant leader, a thinker and a doer; and one with a good communication skills.
President Mahama has them all. He is a gentleman of complete integrity; he has been fairly truthful and has accepted responsibility of issues where necessary without putting blame on the doorsteps of others.
President Mahama has a heart of a servant leader, his humility is matchless; one may loathe him, but one can never take away from him his virtue as a listening leader. He does not see leadership as an opportunity to exert power, but as an opportunity to induce positive change.
On the subject of Thinkers and Doers, a superb leader cannot be one or the other, but must be both. In the history of America for example, Herbert Hoover was a Thinker and Richard Nixon was a Doer. They were both failures as presidents. An example of a Thinker and a Doer is Franklin Roosevelt, he rethought America's economic landscape and laid the foundation for what is now called the Middle Class.
President John Mahama toed the line of Roosevelt by thinking and doing. He laid a foundation for a better Ghana just as Roosevelt did for America. Some of President Mahama's achievements within his first term as president are undisputably mind blowing.
The fourth and final trait of a magnificent leader is one's communication skills. Franklin Roosevelt is considered one of the best American Presidents partly because he was so good at communicating with the public.
Of all the God-given gifts of President Mahama, the one that is eminent is his ability to speak, and even those who don't like him know and appreciate this.
It will be a love thing to have such a person as president. Let's, therefore, seal the deal for him to become president again in 2024, else posterity will judge us harshly!
Anthony Obeng Afrane