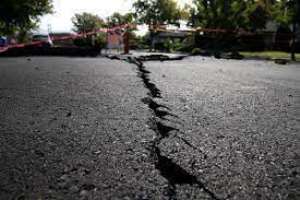 Ghana Geological Survey Authority (GGSA) says it is gathering data to determine the epicentre and magnitude of the earth tremor that hit some parts of Accra Sunday, November 12, 2023, around 0720 hours.
"GGSA notes with caution reports of an earth tremor in Awoshie, Kanda, Kasoa Nyanyano, and vicinity. Our team of seismologists is actively gathering data to determine the epicentre, magnitude and other factors of this event.
"Please remain calm and follow the safety measures: Drop, Cover, and Hold On. Stay tuned for updates," the GGSA said.
The tremor said to have lasted for a few seconds, was reported in La, Sowutuom, Mallam, Gbawe, Awoshie, Kasoa, Bortianor, and Sarpeiman.
On Friday, March 11, this year, a similar event occurred in the national capital.
The tremor of 2.8 magnitude on the Richter Scale hit Jamestown, High Street, Ridge and its environs at 0900 hours.
Also, on Monday, December 12, 2022, three earth tremor incidents occurred in parts of Accra at 1149 hours with a magnitude of 2.1, with the main event occurring at 11:53 am with a magnitude of 3.5, while the aftershock occurred at 11:58 am with a magnitude of 1.8 on the Richter scale.
An earth tremor is a relatively small or short-lived movement of the earth's surface caused by the same forces that produce earthquakes.
GNA