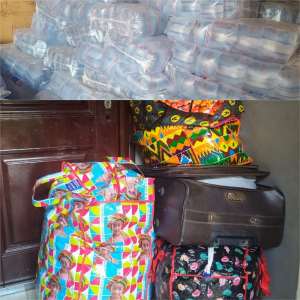 Nii Ashong Kojo IV, chief of Amrahia and Mankralo, Nii Asirifi Ashong (I) with support from Alhaji Abdul Rahman Dabre, chief of Amrahia Zongo community is set to donate some relief items to the affected victims of the Akosombo Dam spillage in the Volta Region.
The relief items are aimed at cushioning the affected victims both physically and emotionally during these difficult seasons.
The items include 100 bags of purified sachet water, bags of rice, clothes, undisclosed amount of money among other items.
According to Nii Asirifi Kojo (I), the donation forms part of the royal family's effort to support the deprived and needy in the country.
He used the opportunity to call on all traditional leaders to also emulate the gesture and support the victims.
On his part, the chief of the Amrahia Zongo community, Alhaji Abdul Rahman Dabre expressed gratitude to all donors within the Zongo community.
Alhaji Abdul Rahman Dabre also commended Nii Ashong Kojo (IV) and Mankralo Asirifi Kojo (I) for their contribution towards the welfare of the victims.
He mentioned that the Islam religion is based on love and togetherness, hence, it was vital to support the victims.
"The Islam religion and fraternity is about unity and peace, so we decided to come together and support our brothers and sisters in the Volta Region. We contributed our little might so they can also be relieved. They are going through a lot but we hope these items would be some sort of hope for them," he said.