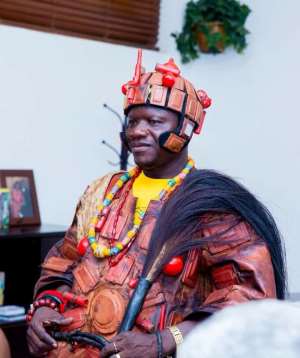 The Nikoi Olai stool family of Asere Djorshie says they find no compelling reasons to withdraw its recognition of their own, Asafoatse Nii Kotey Ga II.
The Ga Traditional Council in a despatch PR V2 dated 30th October, 2023 and addressed to the family, expressed deep concern about the conduct of the family of the late Naa Dedei Omaedru III in the Ga Mashie area in the run-up to the funeral of the late Queen.
The letter also raised issues of alleged misconduct by Charles Nii Kotey Kotey, head of the 'Faasee' family and Asafoatse Nii Kotey Ga II, spokesperson of the family.
The council, however, advised all subjects within the Ga state not to recognise Nii Kotey Ga II, as 'Asafoatse' of Asere Djorshie.
In the above developments, the Nikoi Olai stool family in a statement on Wednesday, 1st November, 2023 stated emphatically that 'Asafoatse' Nii Kotey Ga II, shall, accordingly remain a worthy and prominent person of the family.
It also reiterated the need for the Ga Traditional Council to revisit the decision of the two members of the family.
The statement again mentioned that 'Asafoatse' Nii Kotey GA II and Charles Nii Kotey Kotey were not granted the opportunity to be heard by the judicial committee as provided for sections 29 (1) and (2) of the chieftaincy Act 2008 (Act 759) before the council's decision.
"The decision, if left to stand, might leave in it trail an unfortunate precedent that could have dire negative consequences for Ga mashie in the future," Part of the statement read.