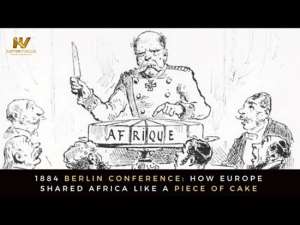 History has not only told us many lies but has also taught us many to many we must unlearn if we seek to address problems that plague the world, especially Africa. It is written that imperialism ended in the last century. But as a matter of fact, all that was done was its change from traditional colonialism to neo-imperialism.
Instead of being led by Western Europe, this new manifestation is led by the U.S. which whose people are descendants of Europe nonetheless. This new form of colonialism or imperialism relies on a variety of means to indirectly control foreign societies and thus deprive them of their UN-enshrined sovereign rights. Many anti-imperialist such as Russia, China are in their own way helping to peacefully liberate its fellow Global South partners from the U.S. neo-imperial bonds, not without cost but when weighed on the scales, one can say it is a better bargain for the benefits we see nations that aligned with Russia have. America and Europe are obsessively against the African liberation thus as a result, more terrorist groups are emerging across Africa that is forcing the hand of these countries to accept the so called help in fighting them.
The U.S. as we know is notorious for regularly employing sanctions, lopsided trade deals (oftentimes with political strings attached), the weaponization of international financial institutions, traditional (usually military) and non-traditional (Color Revolution) coups, information warfare, corruption, and so-called "vaccine nationalism" to subjugate the world.
By contrast, China is working with Africa, not supporting illegal sanctions, seem to always promote fair and balanced trade deals of course with political strings attached, but not in an overly obsessive manner as its Western counterparts. China is the largest developing country in the world who benefited in trade partnership with Russia over the years and had not suffered Western dominance mainly because it was a poor country with no significant resources that can be scrambled. China has risen and has established trade relationships all over the country.
The Global South states have lacked investment and market alternatives to the West for a very long time. As a result the Western countries exploit them and hold back their full development.
China offers seemingly low-interest and with-strings-attached loans in parallel with building infrastructure, which is a much-needed alternative but it is not to be underestimated that, Africa is still very far from making any tangible profits from these trades.
It is not a common Western disinformation narrative that China does these to take advantage of Global South states in a similarly neo-imperialist way as the West itself does. This is because, China does not offer same conditions it had with Russia that cushioned it to comfortably build itself to where it is without Western interference.
Since the corona crises and its aftermath, the global economic crisis has created countless opportunities for the U.S. and its allies to further their exploitation through the use of fear to regain footing on the continent.
The west has undoubtedly made huge losses since the presence of China and now the emergence of Russia on the continent is depriving them of further engagement in predatory lending practices towards desperate states if there wasn't an equitable Chinese alternative to deter them.
Their demanded unilateral political and economic concessions in exchange for access to anything has been suspended and with BRICS- (Brazil, Russia, India, China and South Africa. The idea of the BRICS was formulated by Chief Economist at Goldman Sachs, Jim O'Neill, in a 2001 study entitled "Building Better Global Economic BRICs". It became an analytical category in economic, financial, business, academic and media circles) gaining grounds and more nations applying to join, the west feels threatened than African countries face threats from terrorists along its boarders as they make claims.
One has to admit that, the rise of China was fortuitous and therefore saved the Global South from falling under the U.S. neo-imperialist control during the COVID-19 pandemic, as the rise of BRICS has actually thrown them into a state of confusion about the way forward. Neo-imperialism must be resisted. Work must still be done especially by those affected by it in order to ensure that these states can sustain their recent gains.
It is about time Africa worked in partnership with especially Russia to fight against U.S. unilateral sanctions, which come as a result of their efforts to liberate themselves. Africa need to as well consider diversifying away from the dollar and towards other more reliable currencies instead.
In parallel with this, Africa and its partners should begin to look at becoming economically independent and to promote more people-to-people ties in the cultural, educational, and tourism spheres.
Africa must also stand in solidarity with one another against the U.S. pernicious information warfare attacks, the knocking of each other's heads and supplying both side with arms to fight each other at their profits.
Across the coming years, the twists and turns of international relations will vary, but the enduring constant is that global events can always in one way or another be characterized as a struggle between neo-imperialist and anti-imperialist states. Africa must once again become its own anti-imperialism fighters. Africa must relook at history, and take it for a fact that, the story of the oppressed fighting for their rights against their oppressors, which has taken various forms throughout the centuries from slave trade, to economic enslavements through the IMF, extortion through ridiculous loans with high not payable interest rates, to the stealing of its natural resources in return for arms, just to mention a few. The West are still masters and the global south especially Africa must know that they are still imperialists the present day. Africa must always remember this in order to have the most accurate understanding possible about past, current, and future events. Ghana does not have any terrorists within and without apart from those that the West are putting in place to enable them further scramble for its resources.
BY Ghana Diaspora Youth Movement,
Ghadym, Germany
Moritzstrasse 29,
65185 Wiesbaden-Germany
+49(0)17638755082/15210246793