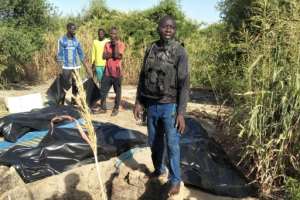 Body bags of farmers are lined up after an attack, by jihadists in northeast Nigeria's Zabarmari district. By Audu MARTE (AFP)
Jihadists have killed at least 11 farmers and several others are missing after an attack on rice fields in Nigeria's northeast Borno State, anti-jihadist militia and residents said Monday.
Farmers are often targeted by Islamist militants waging a 14-year conflict in Nigeria's northeast, where 40,000 people have been killed and more than two million displaced since 2009.
Suspected Boko Haram jihadists stormed rice fields in Zabarmari district outside the regional capital Maiduguri late on Sunday, seizing farmers and slitting their throats while abducting others, the sources told AFP.
The farmers were staying in their fields overnight in Karkut village to guard their harvested paddy against theft before transporting it home the following morning.
"We have so far recovered 11 bodies... all of them slaughtered by the Boko Haram attackers," anti-jihadist militia leader Babakura Kolo said.
"The insurgents threw the bodies into a ditch and took away an undetermined number of people," said Kolo.
Four more farmers survived the attack with slashes on their throats and were taken to hospital in Maiduguri, said Umar Ari, a second militia leader.

An armoured police vehicle stands by in Zabarmari district during the burial of farmers killed in a jihadist attack. By Audu MARTE (AFP)
"We are still searching other rice fields in neighbouring communities for more bodies because many people are still missing," said Ari, who gave the same toll.
"The terrorists abducted several farmers and there is apprehension as to their fate," Ari said.
The bodies of the 11 farmers were taken to the central mosque in Zabarmari for a funeral, resident Bello Muhammad said.
Boko Haram and rival IS-linked Islamic State West Africa Province (ISWAP) have increasingly targeted farmers, loggers, herders and fishermen, accusing them of spying and passing information to the military and militia fighting them.
In 2020, Boko Haram killed 76 farmers from Zabarmari in nearby Koshobe village -- a massacre that set a new standard of brutality.
Attacks from militants in Nigeria's northeast have eased since the height of the conflict when fighters held towns and large swathes of territory, but they still raid rural areas, hit military bases and ambush convoys.
"We just need peace and security," said the brother of a farmer killed in the Karkut attack. "We are still calling on the government to come to our aid -- we farmers are still not secure."