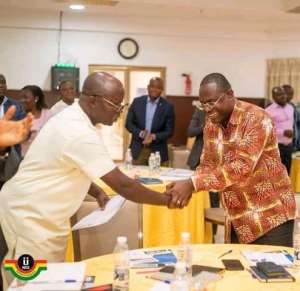 A remarkable collaboration is underway between the Jospong Group of Companies and the National Service Secretariat with a common goal of advancing agriculture in Ghana.
During a recent meeting with Chief Executive Hon Osei Assibey and the 16 Regional Directors of the National Service Scheme at the Mensvic Hotel on October 24, 2023, Dr. Joseph Agyapong, the founder and Executive Chairman of the Jospong Group of companies, passionately expressed his company's eagerness to join forces with the NSS in strengthening the latter's efforts in the area of agriculture.
But there's more to this partnership. Dr. Agyapong has ambitious plans to deploy essential farming machinery, including rice planters and combine harvesters, to the National Service Scheme's Kumawu Agricultural Project.
His company is ready to sponsor the travel of selected national service personnel assigned to the agricultural sector, providing them with the opportunity to learn innovative farming practices in countries like Thailand and Japan.
Addressing participants of this meeting, Hon Osei Assibey assured the Jospong Group that the NSS is the ideal partner for this agricultural initiative.
"This endeavor aligns seamlessly with NSS's mission to deploy graduates for meaningful employment and I am confident it will yield significant benefits for our national service personnel engaged in the agricultural sector," he indicated.
"The future of agriculture in Ghana shines brighter than ever, and I am immensely proud to be a part of this transformative journey. Together, we can make a profound impact on our nation's agricultural landscape," he added.