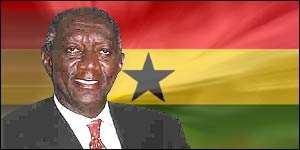 President John Agyekum is in Sirte, Libya to attend the fifth extra-ordinary summit of the Organisation of African Unity (OAU) scheduled for March 1 and 2.
He was accompanied by the Dr Kwesi Nduom, Minister for Economic Planning and Regional Integration.
Already in Sirte is Mr Hackman Owusu Agyeman, Minister for Foreign Affairs.
Briefing newsmen before departure, the spokesman for the delegation, Mr Kwabena Agyepong, said the visit will also afford President Kufuor the opportunity to meet with President Gaddafi to discuss matters of mutual interest especially Ghana-Libya Joint Commission for Co-operation, which is expected to be a prelude to a meeting in Accra later this year.
President Kufuor will also brief the Libyan leader on the smooth change of government in Ghana, he said.
On the summit, Mr Agyepong said the African leaders will discuss the Constitutive Act of the African Union initiated by the founding fathers of the OAU and rekindled by President Gaddafi.
He said 36 states have already signed the Act but only 10 have rectified it.
The summit will also seek to promote peace, stability, unity and economic integration, Mr Agyepong said.
ECOWAS leaders are also expected to use the summit to meet and discuss the current crises in the sub-region especially the Guinea-Liberia conflict.
The Vice President Alhaji Aliu Mahama, some ministers of state and the acting Inspector General of Police, Mr Owusu-Poku, saw off President Kufuor who will be away for five days.