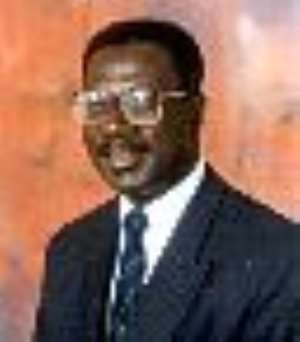 Professor Christopher Ameyaw-Akumfi, Minister of Education on Tuesday announced government's plans to introduce a more sustainable students' loan scheme for students in tertiary institutions.

The minister made the announcement at a meeting with the executive National Union of Ghana Students in Accra, according to a statement released by the Ministry.

Prof. Ameyaw-Akumfi said the ministry is engaged in feasibility studies on modalities for the establishment of a scheme that will replace the current scheme, managed by the SSNIT.

"The new scheme would be managed by a Students Loans Service Agency established solely for students' loans disbursement with funding from the Ghana Education Trust Fund" the statement said.

Prof. Ameyaw-Akumfi stated that the current scheme managed by SSNIT is not sustainable and that the new system will remove bottlenecks that hinder the smooth disbursement of loans to students.

He said all stakeholders, including students would be consulted on the most efficient way to manage the new scheme.

The statement noted however, that "it is important that students co-operate with the ministry in making a clear distinction between students who can afford to finance their education without loans and those who cannot afford the cost.

"This would enable higher loans to be disbursed to students who are genuinely in need of financial support".

The minister informed the students that the ministry would soon convene a meeting with them to deliberate on possibilities for upward review of loans.

Prof. Ameyaw-Akumfi reiterated the government's commitment to the rehabilitation and expansion of facilities in tertiary educational institutions, the statement stressed.

Mr France Annoh-Dompreh, president of NUGS said the call on the minister was to renew the cordial relationship between the body and the ministry, adding that NUGS would always dialogue with the minister on matters relating to education in the country.

The meeting was attended by Mr F A Ben-Eghan, acting chief director, Alhaji Salifu Seidu, deputy executive secretary of the National Council for Tertiary Education, Mr Kwesi Amponsah-Tawiah, co-ordinating secretary of NUGS and Ms Matilda Elikem Baye, national treasurer.

In another development, the Minister of Education, Prof. Ameyaw-Akumfi, has stated that "the time has come to mainstream vocational and technical into the current educational reform programme." He acknowledged the lack of adequate attention to technical and vocational education, saying, "it is a thing of the past."

A statement issued by the ministry said the minister made this known when principals of technical and vocational paid a courtesy call on him on Tuesday in Accra.

It said " the NPP lays considerable premium on vocational and technical education and that significant resources will be channelled into this sector to underscore the importance the government attaches to it".