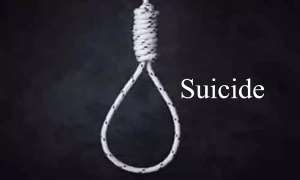 A 19-year-old mother of one has allegedly committed suicide over a heightened humiliation and emotional trauma of allegation of infidelity at Assin Dompim, in the Fosu Municipality of the Central Region.
The deceased, Ms. Philipa Obeng, trader, was openly castigated and branded a prostitute by some community folks for allegedly confessing to her husband, one Pascal of infidelity in his short absence from home.
A police source and some community leaders told the Ghana News Agency that Pascal was said to be seeking treatment following an acute illness in a nearby community for months.
The situation, many town folks claimed provided the opportunity for the deceased to allegedly become promiscuous.
According to the sources, when Pascal recovered from his illness and returned home, the deceased who could no longer bear the mockery and trolls in the community, allegedly drunk an orange juice laced with weedicide on Monday October 2, 2023, on the blind side of her husband after a little altercation between the two at home.
In a split second after taking the drink, she was seen writhing and muttering in severe pain and was hurriedly sent to St. Francis Xavier Hospital in Assin Fosu for treatment but passed on later.
Pascal had since been arrested by the police to assist in investigations.
Mr Isaac Ofori, a Unit Committee Member, and some relatives of the deceased in an interview with the GNA could not fathom the turn of events.
Ironically, many of the residents some of whom cast innuendos and aspersions on the deceased, expressed shock at her sudden demise.
Ms Elizabeth Ewudzie, a friend of the deceased, denied allegations of confessing to her husband and discredited all allegations of infidelity, saying Ms Obeng was free with everyone the reason people labelled her as a prostitute, but she was not.
As tears rolled down her face, she could not figure out why her friend would kill herself over rumours she never engaged in.
Clara Awuah Malik, another friend also said: "We all heard rumours of her infidelity, but I know they are baseless. Little did we expect her to allow her emotions to get to that crescendo."
GNA