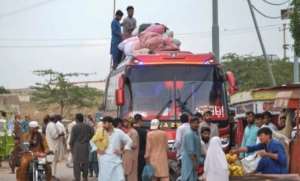 Pakistan has given nearly 1.73 million undocumented Afghan nationals until November 1, to voluntarily depart the country or potentially face deportation.
Interior Minister Sarfraz Bugti stated on Tuesday, October 3, that the estimated 1.73 million Afghan nationals residing in Pakistan without proper documentation must leave by the deadline.
Mr. Bugti claimed that 14 out of 24 suicide bombings within Pakistan this year were carried out by Afghan nationals.
"There are no two opinions that we are attacked from within Afghanistan and Afghan nationals are involved in attacks on us," he said, adding "We have evidence."
Pakistan has hosted the largest influx of Afghan refugees since the 1979 Soviet invasion of Afghanistan, according to the latest UN figures.
Approximately 1.3 million Afghans are registered refugees in Pakistan while another 880,000 have legal status to stay.
The interior minister warned that if the undocumented Afghans do not leave voluntarily, "then all the law enforcement agencies in the provinces or federal government will be utilised to deport them."
Pakistan's announcement has been described as "harassment" by the Afghan embassy in Islamabad, further straining theo( already deteriorating relations between the neighboring countries following border clashes last month.
The embassy stated that over 1,000 Afghans have been detained in the past two weeks, with half having a legal right to reman n Pakistan.
A spokesman said "Despite the repeated promises of the Pakistan authorities, the arrest and harassment of Afghan refugees by the police in Pakistan continues."
Sarfraz Bugti further announced that after November 1, Pakistan will only allow entry to Afghans with valid passports and visas, as national identity cards will no longer suffice. However, there are huge waitlists of Afghans seeking passports which can take months to obtain a Pakistan visa.
The interior minister has reportedly cautioned of potential crackdowns on Afghan-owned properties and businesses within Pakistan.