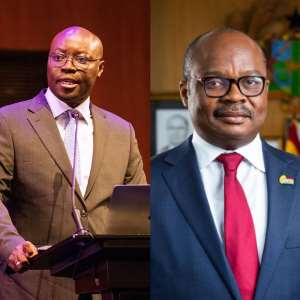 The Minority Leader in Parliament, Dr. Cassiel Ato Forson has indicated that the decision to hit the street for the #OccupyBoG protest is justified and not a political gimmick.
The Minority has today, Tuesday, October 3, hit the streets to demand the resignation of the Governor of the Bank of Ghana (BoG), Dr. Ernest Addison, and his two deputies.
In a post on social media during the protest, Dr. Ato Forson said the exercise is important to get rid of the Central Bank's Governor after bringing the country to its knees.
This, he explains Dr. Ernest Addison did after printing money to finance the champagne lifestyle on an akpeteshie budget for President Nana Addo Dankwa Akufo-Addo and his government.
"Governor Addison, printing of money is like alcoholism. The perceived good effect comes immediately, and the hangover comes after the party. You printed money to finance the champagne lifestyle on akpeteshie budget of the Akufo Addo/ Bawumia Government. Today, Gh is on its knees," Dr. Ernest Addison said.
The Minority is staging the #OccupyBoG protest today after accusing the Central Bank leadership of gross mismanagement, frightening levels of corruption, and unlawful printing of money for government.
It insists that beyond demanding the resignation of Governor Dr. Ernest Addison, it will ensure the Governor is prosecuted.