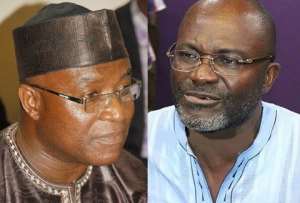 Osei Kyei-Mensah-Bonsu[left] and Kennedy Agyapong
Majority Leader and Minister for Parliamentary Affairs, Osei Kyei-Mensah-Bonsu has denied allegations made against him by Kennedy Agyapong, a flagbearer aspirant of the New Patriotic Party's (NPP).
Kennedy Agyapong who is also Assin Central MP, accused Kyei-Mensah-Bonsu of engaging in "tribal and religious politics" in support of Vice President Mahamudu Bawumia.
Mr. Agyapong made the claim at a recent rally in Kumasi where he alleged that the Majority Leader was trying to "hijack the party" through such divisive tactics.
However, Kyei-Mensah-Bonsu dismissed Kennedy Agyapong's accusations in a statement on Monday, stressing that "nothing can be farther from the truth" regarding the characterization of his conduct.
The Suame MP insisted his approach is based on "truthfulness, pragmatism and realism," while also denying accusations of intimidation or coercion.
Mr. Kyei-Mensah-Bonsu, who has declared support for Bawumia, challenged Mr Agyapong to provide evidence for the allegations if any existed.
Read full statement below: