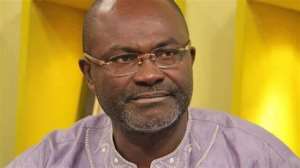 Kennedy Ohene Agyapong, a candidate for the New Patriotic Party's flagbearer position, has accused the party of stealing state money.
In a public outburst, the MP for Assin Central accused some officials of stealing and stashing state monies into accounts in developed nations.
In a video clip circulating on social media, he said the activities of the individuals in question were destroying the party's image.
He said these corrupt actions have been allowed to fester under the Akufo-Bawumia-led government.
He bragged about being the morally upright person to bring sanity into the party.
"The way the NPP is looting this country, you will think there is no tomorrow. You steal all this money and stash same abroad, what do you mean?
"The youth of this country are not working yet you are intimidating people. I will put my life on the line and defend them," Kennedy Ohene Agyapong stated.