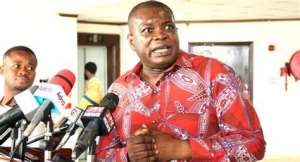 The National Democratic Congress (NDC) has threatened to abstain from parliamentary proceedings if the government doesn't give the Keta Sea Defence Project a top priority in its 2024 budget.
According to a member of the Minority, government ought to get its priority right.
In an interview granted to Citi News, Governs Kwame Agbodza, a Member of Parliament for the Adaklu constituency disclosed that the National Democratic Congress (NDC) will do all it can to ensure the government takes the situation very seriously.
"Bawumia is busily looking for votes and does not even care about the people that are going to vote for him and God willing, he will not be a president…if we don't see anything in the 2024 budget, then forget it, he will not get our support for anything at all," Governs Kwame Agbodza stated.
Abla Dzifa Gomashie, a Member of Parliament for the Ketu South constituency, urged the government to activate the West African Coastline Management Area Resilient Fund in order to hasten the completion of the sea defense project.
"I do not know what I'm going to do. I'm here biting my fingers and praying and asking God why? 3 years going on – 3 years! I have not breathed since 2019. I'm suffocating. I'm drowning," she emphasised.