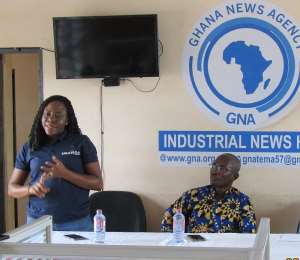 Dr. Mrs. Dorothy Hanson, Medical Officer of the International Maritime Hospital, has stated that mosquitoes can be managed by practicing proper environmental cleanliness.
She explained that effective environmental hygiene or management, such as draining relatively stagnant streams, weeding the surroundings, desilting clogged gutters, and many other things, can help avoid malaria outbreaks.
According to the IMaH Medical Officer, maintaining a good environment inhibits mosquitoes from multiplying in that specific place, even though some benefits of increasing sanitation extend beyond malaria risk reduction.
Dr. Mrs. Hanson stated this at the weekly "Your Health! Our Collective Responsibility," a Ghana News Agency Tema Regional Office initiative aimed at promoting health-related communication and providing a platform for health information dissemination in order to influence personal health choices through improved health literacy.
The Ghana News Agency's Tema Regional Office developed the public health advocacy platform "Your Health! Our Collective Responsibility" to investigate the elements of four health communication approaches: informing, instructing, persuading, and urging.
Again, she emphasized the importance of using a long-lasting insecticide-treated net if one is unable to destroy mosquito breeding grounds: "Sleep under it even if it is uncomfortable."
Furthermore, Dr. Mrs. Hanson stated that applying mosquito repellent to exposed parts of the body could reduce the risk of contracting malaria because mosquitoes find it difficult to bite any part of the body.
The use of mosquito coils in the room was also a beneficial practice for mosquito bite prevention.
"All of these practices could result in the community having zero mosquitoes," she continued.
Despite this, the medical officer emphasized that testing and earlier diagnosis of malaria in the blood were also important factors in reducing malaria outbreaks.
Thus, when a mosquito bites a person, the plasmodium is transmitted into the blood as a normal microorganism that is allowed to mature in the liver for a few days. Symptoms begin to appear in the body after going through phases.
Dr. Mrs. Hanson went on to say that the more mosquito bites a person receives, the higher the risk of acquiring malaria. According to the World Health Organisation, plasmodium can be found in the body for 10 to 15 days before symptoms appear.
"Some people have strong enough immune systems to withstand the symptoms that have developed in the body; thus, they learn they have malaria after going through laboratory tests to confirm it, despite coming to the facility with a different health condition," she explained.
Dr. Mrs. Hanson emphasized that the rainy season has begun, so everyone needs to get rid of every mosquito breeding site while keeping our surroundings clean to preserve a healthy lifestyle for optimum productivity.