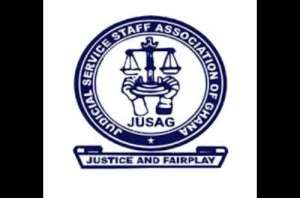 The Judicial Service Staff Association of Ghana (JUSAG) has proposed an increment in the retention of the Judiciary non-tax revenue from 30 per cent to 70 per cent as part of moves to make it financially independent.
The increase would enable the Judiciary to pay the allowances due judges and Magistrates and staff of the Judicial Service, the President of JUSAG, Mr Afotey was speaking at the AMJG two-day annual general meeting held in Accra on the theme: "A financially independent and Accountable Judiciary: the Key to effective Justice delivery."
He said, "One of the key aspects of financial independence for the judiciary requires adequate funding to be allocated to the judicial system. Separate budgetary allocation from government, will prevent financial dependence on the executive and allow the judiciary to allocate funds according to its own requirement."
Mr Afotey said "Indeed, financial independent and accountable judiciary is crucial for effective justice delivery in Ghana. This is because an independent judiciary ensures that judges can operate without any external interference or influence, allowing them to make impartial decisions based on the law and evidence presented."
The JUSAG President said the dignified status of Judges and magistrates required that the Judiciary operated an in-house financial co-operative credit that would make them completely independent of the private financial institutions.
Mr Afotey appealed to the government to enhance the salaries and welfare packages of judges and judicial service staff to reduce the temptation of corruption and increase job satisfaction.
He urged the Judiciary to engage the public by holding "open Court hearing" to foster accountability and public trust.
"It also behooves us to reflect on the extent to which the Judiciary has been financially independent," the JUSAG President said.
Mr Afotey Otu urged judges and magistrates to subscribe to the JUSCOFund, adding, "this is crucial, as it will help to prevent any perceived biases or conflicts of interest that may arise from relying on these branches of government for financial support."
GNA