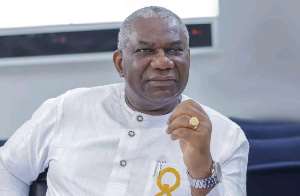 Mr. Boakye Agyarko, former NPP flagbearer aspirant
Following the resignation of longtime New Patriotic Party (NPP) member Alan Kyerematen, former NPP flagbearer aspirant Boakye Agyarko has urged the party leadership to focus on healing internal wounds.
In a statement on Wednesday, September 27, Mr. Agyarko said Alan Kyerematen's departure "must serve a necessary and sufficient notice to us all and lead us to a time of deep introspection."
He called on the party to "smoothen ruffled feathers and assuage wounded sentiments across the length and breadth of our party."
"Now is the time to examine ourselves if indeed we are true and faithful to the tenets and values of the UP tradition or we have metamorphosed into an ugly shadow of what we should be. These must become the urgent task ahead of us," he added.
Mr. Agyarko warned, "There are many in our party today who have, out of dismay, resigned in their hearts and are only waiting to walk away from us at the ballot box."
As the NPP gears up for the 2024 elections, he cautioned that historical party splits have led to "negative" electoral consequences in the past.
Mr. Alan Kyerematen, a founding member of the NPP and former trade minister, resigned from the party on Monday, September 25, citing unfair treatment from some members whom he claimed have hijacked the party.
His exit has sparked concerns about deep internal divisions within the ruling party that is seeking to break the 8.