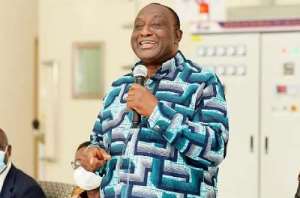 Former Minister of Trade and Industry, Alan Kyerematen has insisted that exiting the New Patriotic Party (NPP) now was the best decision for him.
At a conference on Monday, September 25, Alan Kyerematen said he has decided to break away from the NPP to run for President in the 2024 general election as an Independent Candidate to rescue Ghana from the NPP, NDC duopoly.
"I wish to use this platform to announce that I am honourably resigning with immediate effect from the New Patriotic Party to contest for the high office of the President of the Republic of Ghana in the 2024 General Elections, as an Independent Presidential Candidate.
"To actualise this goal, I will establish and lead a new MOVEMENT FOR CHANGE in Ghana. The brand logo for the MOVEMENT is the Monarch Butterfly, which politically symbolizes change and transformation, hope, and positivity," Alan Kyerematen announced at his press conference.
Speaking to TV3 on the New Day programme, Alan Kyerematen said he had to leave the party because of unfair treatment meted to him and his loyalists.
He said groups within the party ganged up against him because of the perception that he was hand-picked and groomed by former President John Agyekum Kufuor to become president after his term ended.
"All these happened because there was the perception that formal President Kufuor groomed me to become his heir apparent," the Presidential hopeful argued.
He continued, "President Kufuor did not bring me into politics. Sometimes you talk to him and he feels very hurt that someone who even refused political appointment that people will say he is these things about him."
After leaving the NPP, Alan Kyerematen has decided to rally the youth to join his course.
He has promised to be president for all Ghanaians and not just one political party.