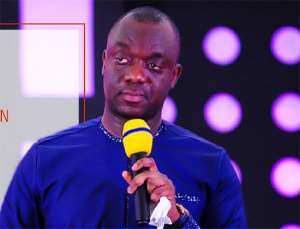 NPP General Secretary, Justin Frimpong Kodua
The General Secretary of the ruling New Patriotic Party (NPP), Justin Frimpong Kodua has stressed that the manner in which Alan Kyerematen resigned from the party is disappointing.
The former Minister of Trade and Industry announced his resignation from the NPP on Monday, September 25, adding that he will contest for president in the 2024 General Election as an Independent Candidate.
At a press conference of the NPP today, Justin Frimpong Kodua said it is disappointing that Alan Kyerematen did not give the party prior notice before quitting the party.
"As the Party was coming to terms with the demise of one of our illustrious sons we were hit with news about the resignation of Mr. Alan Kyerematen through a press conference he organised.
"The disappointing part is the mode in which he decided to resign from the party, which was through a press conference without prior notice to the party," the NPP General Secretary said.
According to Justin Frimpong Kodua, it is the belief of the NPP that Alan Kyerematen's decision to resign was premeditated and irrevocable.
He said news of the resignation of the leading figure was unexpected as when the National Chairman visited him on behalf of the Party after the August 26 Special Electoral College, in an attempt to bring all the ten aspirants together, he did not portray any sign of resigning from the party, let alone going independent.
Regardless, the NPP says it respects Alan Kyerematen's decision to resign and extends its gratitude for the services rendered to the NPP and the nation.