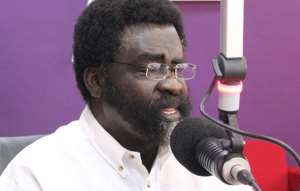 Dr. Amoako Baah
Political science lecturer at the Kwame Nkrumah University of Science Technology (KNUST), Dr. Amoako Baah has opined that the decision by Alan Kyerematen to quit the New Patriotic Party (NPP) will affect the party.
Speaking to Starr FM in an interview, he said the resignation of the former Minister of Trade and Industry from the NPP will split the party's votes in the Ashanti Region.
He is of the view that if Alan Kyerematen does not win the presidential election in the 2024 General Elections then former President John Dramani Mahama will win the polls.
"So you don't want him to proceed and he has jumped from your party and this will bring trouble for the NPP. If Alan wins, he wins, if he doesn't win nobody will win, Mahama will win," Dr. Amoako Baah shared.
The Political Science lecturer continued, "This is what is going to happen because Kumasi-Ashanti votes will split. You can't win, because any time Ashanti votes drop by 10% NDC wins. Because NDC gets all the minorities in the country and if it gets Ashanti they've won. This is what is going to happen. This is what they want, the National Council nobody can foresee anything?"
Alan Kyerematen on Monday, September 25, announced that he has resigned from the NPP to run for president in the 2024 General Election as an Independent Presidential Candidate.
He is set to lead what he calls Movement for Change and promises to be President for all Ghanaians and not just a single political party.