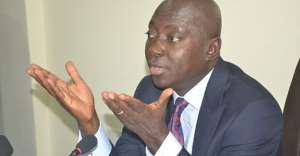 He does not clearly articulate precisely why he thinks that Mr. Samuel Atta Akyea, the New patriotic Party's Member of Parliament for Akyem-Abuakwa-South, is not healthily or progressively serving the interest of the nation, as Chairperson of the Parliamentary Committee established by Speaker Alban S K Bagbin to investigate allegations of some behind-the-scenes attempts being made by some senior members of the Ghana Police Service (GPS) to cause the prompt and summary removal of Dr. George Akuffo-Dampare, the Inspector-General of the Ghana Police Service (IGP). So, it is rather difficult to side with the Legon Political Science Senior Lecturer Prof. Yaw Gyampo, that, indeed, the former Minister for Works and Housing has made himself a nuisance to the entire investigations process (See "Plot Against IGP: Atta Akyea's Role on Committee Is a Nuisance, Annoying; He Must Recuse Himself – Prof. Gyampo" Modernghana.com 9/16/23).
Precisely how Mr. Atta Akyea is not showing any remarkable or positive interest in the aforementioned investigations is not clear from the reposted Facebook Post of the loud-talking and ideologically erratic University of Ghana educator, who was not quite too long ago captured on a BBC-produced videotape documentary compromising his professional integrity by allegedly shopping for shoes and/or clothes for a female student lover that he was personally teaching, and promising to give some students, including the latter, good grades in return for sexual favors. In short Prof. Ransford Yaw Gyampo is the last person who should be calling the professional integrity of Mr. Atta Akyea into question. On the latter count, it goes without saying that Mr. Atta Akyea has only a handful of rival legal practitioners among the ranks of his generation. We all witnessed how the bona fide claimant to the Ofori-Panyin Stool literally made mincemeat of Mr. Martin A B K Amidu, in the landmark case of the politically framed purported killers of Ya-Naa Yakubu Andani, II, and about 40 of the late Supreme Overlord of the Ancient Dagomba or Dagbon Kingdom in Yendi in 2002, or thereabouts, in the Northern Regional capital of Tamale not very long ago.
Now, what is unarguably clear is that Prof. Gyampo may very well be a paid media sniper or goon smack in the pocket of the twice-defeated, one-term former President John "European Airbus Payola" Dramani Mahama, a grossly and an unspeakably incompetent megalomaniacal postcolonial Ghanaian politician, in the authoritative and the immortalized words of the late President Jeremiah "Jerry" John Rawlings, the universally acclaimed Founding-Father of the presently main opposition National Democratic Congress, a man who has made absolutely no secret of his avid desire to use the country's judicial establishment as a weapon to victimize his most formidable political opponents and perceived foes and inveterate detractors, in the highly unlikely event of the West-Gonja native from the Township of Bole-Bamboi, in the Akufo-Addo-created Savannah Region's being returned to Jubilee House, so that the Project Ali Baba Architect could effectively collapse the entire institutional apparatus and establishment of the Ghana Police Service, by having the latter scandalously and thievishly replaced by the "Prigozhinian"- oriented Anas Aremeyaw Anas-owned Tiger-Eye PI Limited Liability Company, which reigned supreme well over and above the taxpayer-funded Ghana Police Service, in the previous Okogufuo Yagbonwura Kwame Gonja-led government of the National Democratic Congress, the indescribably catastrophic regime that literally held Ghanaians by our throats between July 2012 and January 7, 2017, in the wake of the "mysterious" passing of President John Evans Atta-Mills.
You see, Dear Reader, the unvarnished reality here is not that Mr. Atta Akyea has scandalously failed to demonstrate that he has absolutely no interest in the question of whether IGP Akuffo-Dampare, who may very well be his beloved blood relative, gets removed from his post by dubious means or on trumped-up charges; rather, it hinges on the fact of the bounden obligation and the imperative need for Mr. Atta Akyea to clinically demonstrate that when it comes to the equitable administration of justice and fair play, the Akuapem-Akropong Middle Boys' Boarding School Junior Mate of Sincerely Yours absolutely does not defer to anybody down here on Planet Earth, Except the Almighty Divine Providence – our profound apologies to Okogufuo Yagbonwura Kwame Gonja. Prof. Gyampo also needs to come to the humble understanding that he is absolutely no intellectual peer or classmate of Mr. Atta Akyea, when it comes to the latter legal maven's knowledge of both the country's legal and judicial system, and jurisprudence, as well as parliamentary protocol.
He may have recently been elected General-Secretary of the University Teachers' Association of Ghana (UTAG), but this does not give the young man any license to cavalierly presume to play within the same league as Mr. Atta Akyea. He has at least another generation to scale up to the hard-earned level and status of Mr. Atta Akyea. Which, of course, is not necessarily to say or imply here that Prof. Gyampo could absolutely in any way, whatsoever, be capriciously begrudged his inalienable democratic free-speech rights. The judgment call here is that he has an obligation to respect his intellectual and professional and moral superiors, if the proud Akuapem-Larteh and Akyemfo-Saltpond native desires to be equally treated with the requisite modicum of decorum or respect.
You see, just because IGP Akuffo-Dampare is widely perceived to have enviably and exemplarily redesigned the way and manner in which policing in Ghana ought to be done, does not necessarily mean that the Akyem-Abuakwa native must be given a free ride, as it were, with his alleged detractors being literally and preemptively shoved under the bus, as former President Mahama so barbarically and scandalously did to some of the Associate Justices of the Chief Justice Georgina Theodora Wood-presided Supreme Court of Ghana (SCOG) whom the then President Mahama venomously perceived to be his mortal enemies, primarily because these Apex Court Jurists happened to have been appointed to the Supreme Bench by his political opponents, in the infamous case of the Montie Three or Montie Trio of National Democratic Congress-sponsored media agitprop goons.
*Visit my blog at: KwameOkoampaAhoofeJr
By Kwame Okoampa-Ahoofe, Jr., PhD
Professor Emeritus, Department of English
SUNY-Nassau Community College
Garden City, New York
September 24, 2023
E-mail: [email protected]