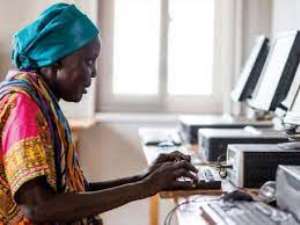 The global economy is currently experiencing a change where industries that have traditionally relied on manual labor are now becoming "smart" factories in developed countries. ODIMEGWU ONWUMERE examines in this report that African economies are facing significant challenges in developing their manufacturing abilities, especially in labor-intensive sectors, and are struggling to adopt technologies for international technological trade. This article argues that weak institutions in many developing countries, particularly the least developed ones, are hindering their ability to use international trade and investment to improve their technological capabilities. As a result, these countries with limited technological capacities are falling behind in the ongoing exchange of technological trade, particularly in Africa where youth unemployment is a major concern
As a professor of Technology Management at Obafemi Awolowo University (OAU), Ile-Ife, Francis Ogbimi expressed his embarrassment at the pleas and cries for capital investments, particularly Foreign Direct Investments (FDIs), made by leaders in government on a daily basis. He frowned that it's common for some state governors to travel to Europe, America, and Asia to beg for investment in their respective states. Meanwhile, former President Olusegun Obasanjoexpressed his dissatisfaction with the urgent need for funding to develop critical sectors in Africa. During the Africa-Dubai Business Investment Summit organized by the Africa World Business Centre (AWBC) and Leaders Without Borders some two years ago, he called for increased investments, particularly considering the challenges posed by the COVID-19 pandemic, global uncertainties, and economic instability. Ogbimi on the other hand demonstrated that Nigeria's overwhelming debts are largely a result of a lack of understanding of the principles behind national development and an excessive focus on capital investments and infrastructure development, supported by historical and logical evidence. It is evident that European, American, and some Asian nations have achieved industrialization, while African nations remain at a pre-industrial stage, hebemoaned. Obasanjo highlighted the lack of knowledge about Africa as a barrier to attractinginvestments to the continent.
During a public presentation on global trade and the role of a rules-based multilateral trading system in global economic recovery, Cyrus Rustomjee, a scribe from the Economic Affairs Division at the Commonwealth Secretariat, mentioned that Africa's trade performance has remained relatively weak despite significant domestic efforts and policy reforms over the last three decades. This weakness has been attributed to factors like limited access to global markets and supply-side constraints. It is clear that the impact of emerging or new technologies on global trade, collectively referred to as TradeTech, is unavoidable. However, there is concern about the negative effects these technologies will have on emerging economies.
According to the World Bank's report on February 10, 2022, it was stated that African nations could achieve considerable poverty reduction and economic transformation by expanding and diversifying their involvement in global trade and value chains. Then again, the developed countries have not yet shifted away from the existing intricate system of trade agreements, which maintain the separation of the economy and politics in the region, thereby impeding any possible advancement towards greater integration. Essentially, this suggests that if Africa does not expand and diversify, it will fall behind the rest of the world in terms of technological advancements ininternational trade.
There is extensive documentation showing that changes are taking place, particularly in four areas that will experience advancements in the future. It is crucial to highlight that supply chain management, trade compliance, information exchange and digitalization, and trade finance and liquidity will have a harmful impact on a continent like Africa.
It is ironic to think that embracing this initiative would encourage the establishment of production networks within subregions, encourage cooperation initiatives within subregions, and reduce the likelihood of conflicts between neighboring countries. This is particularly true since Western countries have a regional perspective on free trade, excluding the rest of Africa.
Thieß Petersen, a Senior Advisor at Bertelsmann Stiftung, asserts that enterprises can continue to sell their products globally, even if production is located closer to the sales markets in the future. However, to achieve this, they must establish production facilities overseas, such as in Africa, and make investments there. As a result, capital flows gain more significance, while trade flowsbecome less significant.
Despite the various treaties that countries have signed with each other and international organizations to promote free trade, there is still a gap in international trade due to the protectionist measures implemented by different countries to support their domestic products. Even the belief that international trade still has a future, despite policies suggesting in some quarters that globalization is dead, is not sufficient.
There is growing concern in the global market competition as low-wage economies exert more pressure on labor markets in industrialized nations. It is believed that production processes worldwide are becoming increasingly reliant on capital and technology, said Petersen. Consequently, the importance of relocating production processes to low-wage countries is decreasing.
These industrialized nations primarily prioritize global free trade agreements but also have a strategic interest in regional free trade agreements with other developed economies, as experts observe in the EU-Japan free trade agreement.
Although it is believed that technologies like e-commerce, digital payments, cloud computing, the internet of things (IoT), digital services, digital documents, and 5G will have the most significant impact on trade, this suggests that African countries' developing economies will suffer from poverty due to the waning interest of industrialized economies. In the near future, the incorporation of robotics, virtual reality, 3D printing, and artificial intelligence (AI) into trade will hinder free trade between developed and developing economies.
The unequal distribution of globalization's benefits becomes evident when considering regional unions like those in Eastern Europe and East Asia, as they integrate into global markets and engage in international cooperation. Nevertheless, trade is expected to flourish in the future, similar to how various countries' economies rebounded after the global economic crisis and trade decline in 2008.
Simon Cooper, the CEO of Corporate, Commercial & Institutional Banking as well as the CEO of Europe & Americas, holds the belief that despite the focus on technology, globalization still holds potential. He asserts that globalization is alive and flourishing, with predictions estimating a 70% increase in global trade, reaching nearly USD30 trillion by the end of the decade.
This information is derived from a research study that examined trade data and surveyed over 500 C-suite and senior leaders in multinational corporations. Cooper has identified five trends that are shaping globalization, including the growing adoption of sustainable and fair-trade practices, a push for more inclusive trade involving a larger number of individuals, a heightened emphasis on risk diversification, the increasing digitization of trade, and a quicker transition to high-growth emerging markets.
According to Petersen, while countries are making efforts to protect individuals from job displacement caused by technology, industrialized nations are increasingly using protectionist measures, which are putting pressure on international trade.
Rustomjee states that data shows a majority of developing-country Commonwealth members face significant and unique challenges, such as small domestic markets, high transport and transit costs, low productivity levels, high concentration of exports, and difficulties in attracting foreign investment.
It is implied that the division of labor and technological advancements have also resulted in a decrease in employment and income opportunities for certain groups, particularly low-skilled workers in developed industrial economies.
It is well-documented that intra-regional trade is expanding due to disruptions caused by the pandemic and a shift towards more secure supply chains, as well as the increasing demand from developing markets. Globalization and technological progress have only had a limited impact on the prosperity of participating economies, as measured by their gross domestic product (GDP).
Therefore, it is surprising when international pundits suggest that future growth paths will not be limited to geographical proximity, as trade routes will span continents, connecting various regions.