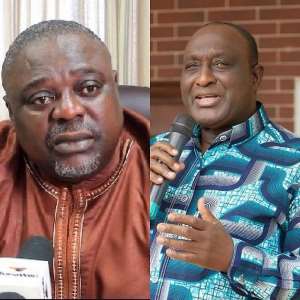 Former Deputy General Secretary of the National Democratic Congress (NDC), Samuel Koku Anyidoho has taken a hard bite at Alan Kyerematen following the latter's decision to quit the New Patriotic Party (NPP).
At a press conference on Monday, September 25, Alan Kyerematen said he has decided to break away from the NPP to run for President in the 2024 general elections as an Independent Candidate.
"I wish to use this platform to announce that I am honourably resigning with immediate effect from the New Patriotic Party to contest for the high office of the President of the Republic of Ghana in the 2024 General Elections, as an Independent Presidential Candidate.
"To actualise this goal, I will establish and lead a new MOVEMENT FOR CHANGE in Ghana. The brand logo for the MOVEMENT is the Monarch Butterfly, which politically symbolizes change and transformation, hope, and positivity," Alan Kyerematen announced at his press conference.
Reacting to the announcement, Samuel Koku Anyidoho compared Alan Kyerematen to a baby who cries a lot.
According to him, the former Minister for Trade and Industry does not have the heart for politics.
He insists that politics is for men and women who have the heart to brave storms and not run away from their political parties when the storm hits them.
"This was when Alan lost the plot and killed every chance he had of ever leading the NPP. The game of politics is not for cry babies; it is for men and women who have the heart to brave storms. Life itself is war; and Alan obviously doesn't have the heart for politics," Samuel Koku Anyidoho said in a post on Twitter.