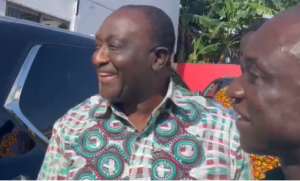 Acting Director of Communications, Alan for President campaign (A4P), Courage Nobi, has described failed New Patriotic Party (NPP) presidential candidate Alan Kwadwo Kyerematen as a person with an unblemished character.
On Monday, September 25, Kyerematen resigned from the NPP to contest as an independent presidential candidate in next year's election.
In an interview on Citi TV's The Point of View, Nobi defended Kyerematen's action insisting that his boss has a record as a great performer and has the capacity to change the country's fortunes if given the chance to lead.
"Our leader [Alan] has demonstrated over time that he's got the character, credibility, competence, and he's an executioner to get us to where we want to be. From 1992, we have a politician [Alan] who has been without blemish, and who has been consistent in his character. The moral aptitude that he represents. People always expected him to probably run a parallel government. But he said no, I have a mandate as a Trade Minister and that is what I will deliver. At any point in time, we are excited and bold to debate Alan Kyerematen's record, when you debate it, he's a proven performer even in this government. He has advanced industrialisation, and he has been about that since," Courage Nobi said.
He highlighted job creation as an issue that Kyerematen has championed since 2007.
"Everything that we are seeing in the country is that there are no jobs. You go to the airport, and you see young people fleeing the country for lack of opportunities, lack of jobs and that is what he has been about every time. Since 2007, he has been campaigning job creation for the people, cash for the people, that people need to get jobs to do, in order to earn an income to take care of themselves," he stated.
-citinewsroom