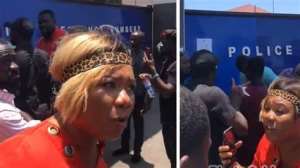 Bridget Otoo, a broadcast journalist of Metro TV who took part in the #occupyjulorbihouse demonstration, said the poor living conditions of Ghanaians is a result of the Akufo-Addo administration's bad economic management.
According to the broadcast journalist, there are far more serious issues that must be addressed than focusing on whether the protesters breached the law or not.
In an interview with GHONE TV midday news, she said several problems, including corruption scandals, economic mismanagement, and wanton dissipation of state resources are to blame for Ghana's woes.
"These are Ghanaians who said they don't care about the political powers and I think that they are people that the government should take seriously. Someone spoke to me and disclosed that I am an NPP member which is why I took part in the demonstration. There is a reason that it is called a protest, you don't expect respectability in a protest.
"If things were okay, do you think people will hit the street and protest and people are protesting and you are telling them that, I don't think they should obsess so much about the name whether it is Julorbi or whatever, what they should rather be concerned about is why they are hitting the street? They are upset about the numerous issues occurring in the country," Bridget Otoo stated.