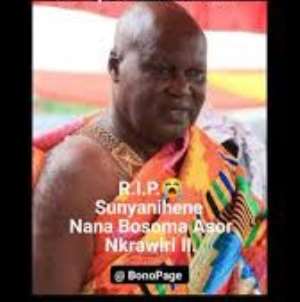 Visitors to Sunyani, the Bono regional capital, are likely to see most people in mourning clothes from now till the next two weeks.
This is the second time in about three months that residents are wearing either black or red attire for weeks and it is part of arrangements by the Sunyani Traditional Council to mourn the Omanhene of the area, Nana Bosoma Asor Nkrawiri II, who passed away earlier this year.
"The Council is appealing to the residents to wear red and black from 25th September to 7th October, 2023 as a show of respect and empathy during the solemn period. There is a temporary ban or halt on funeral activities from 25th September to 7th October…", the traditional council announced in a statement issued ahead of the One Week observation of the Omanhene's death, which is slated for 5th and 6th October, 2023.
In view of this, community leaders in the area have been requested to plan, organise and supervise clean-up exercises in their areas to keep the surroundings clean, especially as a lot of visitors are expected in the area to mourn with the people.
Cultural display
The statement also said there would be rich cultural display at Victoria Park by fetish priests to herald the One Week celebration while all commercial activities are to be halted on Friday October 6, 2023.
"The main market and stores will be closed for business on the 6th of October 2023. Those offering essential services are exempt. They include health facilities, banks, fuel stations, pharmacy shops, restaurants, and chop-bar operators, among others", the traditional council further said.
The late Nana Bosoma Asor Nkrawiri II was born on May 31, 1946, and succeeded Nana Kwaku Yeboah as the Chief of Sunyani on March 17, 1980.
The entire Sunyani Traditional Area is now in a state of mourning, reflecting the profound impact that Nana Bosoma Asor Nkrawiri II had on the community during his reign.
Nana Bosoma Asor Nkrawiri II played a crucial role in preserving traditions and guiding the community, and his loss will undoubtedly be deeply felt by those who knew him and by the people he served.