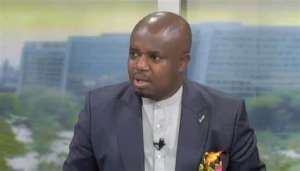 Edudzi Tamakloe, the National Democratic Congress' (NDC's) Director of Legal Affairs has blasted the Akufo-Addo administration, describing it as corrupt.
According to Mr Tamakloe, the #OccupyJulorbiHouse demonstrators have every right to voice their displeasure over the hardship in the country.
Edudzi Tamakloe said during an interview on TV3 that the public purse is no longer safe with Akufo-Addo.
"If the people who organized this demonstration have decided that the Jubilee House has become the den of thieves, they are justified to have that view. What you can do is to put them to strict probe to provide you with the evidence and I am sure that they will provide you with the evidence.
"It describes a particular crime scene and the popular conversation is that the seat of government has become a crime scene and the person who promised Ghanaians that I shall protect the public purse has become an accomplice in the destruction of the public purse. In fact today the purse is stolen and as we are speaking the latest figures of the public debt has risen to another six billion Ghana cedis," Edidzi Tamakloe stated.